Description
RIBLET REAR WING TRIM SHIM KIT
These rear wings require the Riblet Shim Kit, which come in a pack of four, ranging from 0-3 degrees, with 0° being the fastest shim in the setup, perfect for high-speed downwind runs.
The 1° shim gives the least amount of drag, increasing speed but requiring some pumping to get up on foil.
The 2° shim offers a great balance between stability and speed. It is the best choice to start out on.
The 3° shim gives the most lift and is the easiest to get up on foil.
Essentially, the tuning of your foil setup is a tradeoff between convenient lift and inconvenient drag. Choose your shim depending on the conditions and swell for the best possible foiling experience.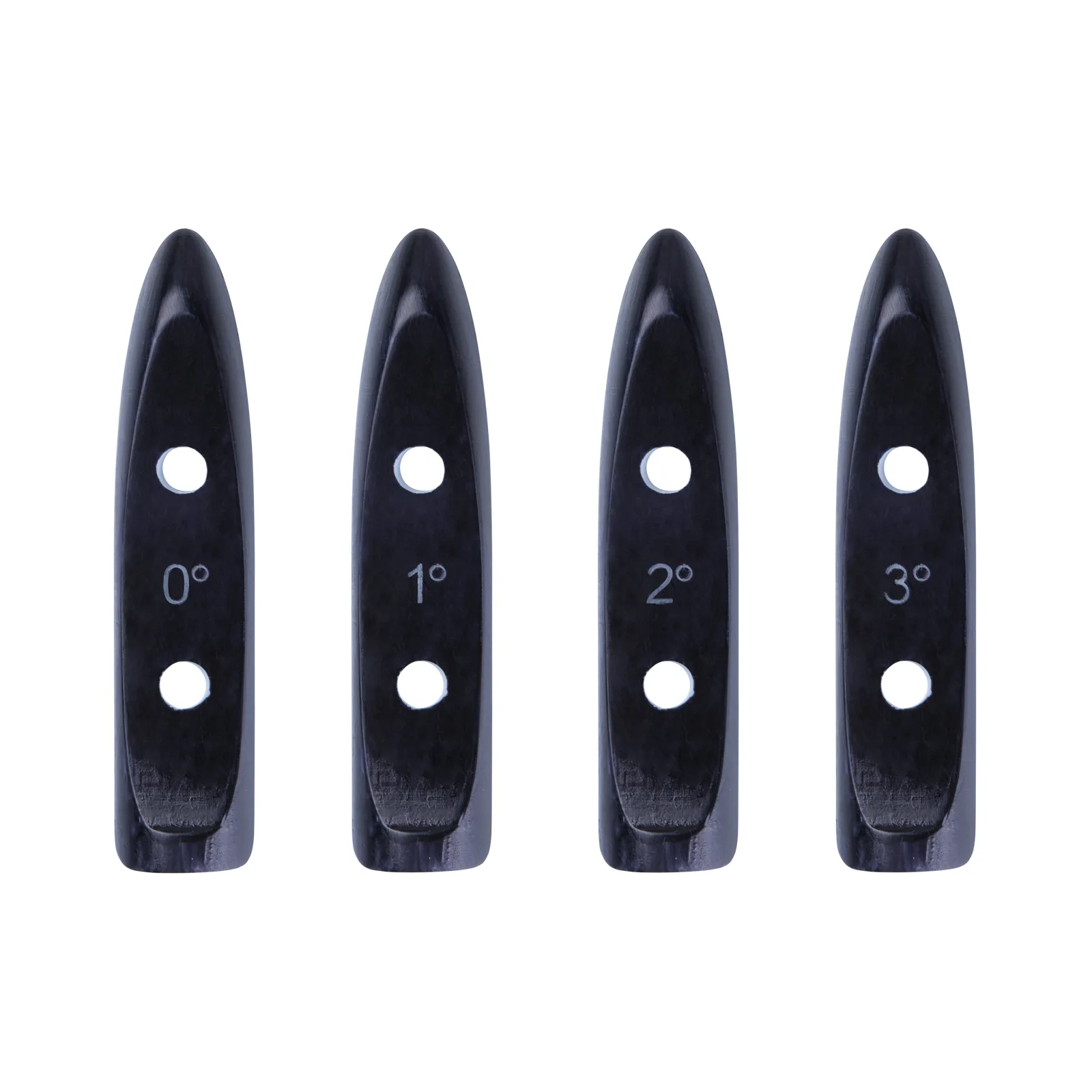 DIMENSIONS OF THE RIBLET REAR WINGS
Width
The wider your rear wing, the more roll stability your setup will exhibit. Winglets or anhedral/dihedral shapes will aid in directional stability, fighting yaw. But those variations will affect the roll stability less than downright width.
Chord
The more chord your rear wing features (leading edge to trailing edge), the more pitch stability you will have. Interestingly, fewer wingspan and narrower chords will create a more responsive foiling setup. make for a faster reaction in their roll and pitch directions.
| Name | Surface | Span | Chord | Aspect ratio | Weight |
| --- | --- | --- | --- | --- | --- |
| NSP Riblet 225 RW | 225cm² | 43 | 6.3 | 8.22 | 0.17kg |
| NSP Riblet 275 RW | 275cm² | 47 | 6.8 | 8.03 | 0.22kg |
SUGGESTED FRONT- AND REAR WINGS MATCHING
| | RW330 Flat | RW340 M | RW245 High Aspect | RW225 Riblet | RW275 Riblet |
| --- | --- | --- | --- | --- | --- |
| Glider 1050 | | | | | |
| Glider 1250 | | | | | |
| Glider 1450 | | | | | |
| Glider 1650 | | | | | |
| Gull 1720 | | | | | |
| Gull 2100 | | | | | |
| Riblet 1025 | | | | | |
| Riblet 1225 | | | | | |
| Riblet 1425 | | | | | |
Best match
Possible

Trimmed