NSP Travel Partners are companies all over the world that share our passion for the sport. Whether they specialize in surf, SUP, beach tours or urban exploring on a paddle board, we work with these organisers as often as possible to promote their tours and provide you with exciting adventures around the world.
Working with these great companies gives us valuable product insights, great travel stories and you never know, you may end up in one our brand photoshoot or product videos.
M&M Stand Up Paddle – Amsterdam
M&M Stand Up Paddling Amsterdam is a tour organiser in scenic Amsterdam and beyond. Amsterdam is a beautiful city, with the centre largely shaped as three concentric rings.
There is NO better way to discover the canals and its many inhabitants (house boats!) than by paddleboard. And what about a Full Moon Paddle or a Paddle to a mediaval location like the Muidercastle?
Check out their Facebook page for SUP events in the area and possible trips on offer.
Sunset Stand Up Paddle – Laguna Beach, CA
Sunset Stand Up Paddle has Laguna Beaches best rental fleet, and some very enthusiastic and capable instructors. What's more, they also organise tours in the area, offering tourists and locals alike the most in-depth paddle experience around.
From beginner paddle lessons to SUP and sailing half-day retreats, they have it all. Make sure to head over to their Facebook Event page to book upcoming dates.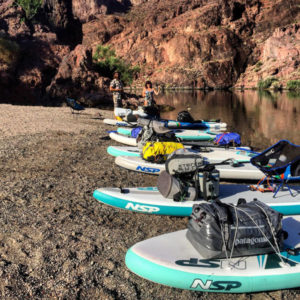 Flow Stand Up Paddle & World Travel
FLOW is a travel organization that specializes in trips to exotic locations like Thailand (we've written about them before), Barcelona, Australia or Mexico. Travelling with Flow means you will be going to some of the nicest places on the planet, with experienced travellers who know the area.
It's organized, but it's not – if that makes sense? Expect to paddle some of the most beautiful bodies of water and relax at beautiful undiscovered gems they've discovered on previous trips. Hop over to their Facebook page to see the available dates.
I LOVE SUP – Albufeira, Portugal (Algarve)
The ILoveSUP school, located in Albufeira, Portugal (Algarve), is entirely dedicated to teaching SUP to all ages and skill abilities, through their school and tour groups. Their instructors are certified and have the qualifications, skill, knowledge and passion to offer the perfect combination for learning SUP.  Be sure to join their most popular tours- the Benagil and Carvoeiro Caves – you will never forget the experience!
You can reach I Love SUP here, here and here  Or pick up the phone and reserve your tour today- +351 936 190 126 
Kanchanaburi, Thailand – Go and explore the famous River Kwai with our friends at SUP Hire Thailand. Here you can rent paddle boards, paddle down class 1 and 2 river rapids and take in all the wildlife along the banks of the river. Visit the Bridge over the River Kwai by water and see it from a different angle, (not many people can say they have seen it from a paddle board). SUP Hire Thailand instructors are all certified and will provide the best service and care while on the water. Meet SUP Hire's Chief Instructor, Troy Wells, as he explains why he chooses the NSP Touring FS  to teach from: https://www.youtube.com/watch?v=E8jnqhb49J0
Call for more details (+66 090 975 9718) or visit them on Facebook to make an appointment.
Wildmex Surf & Adventure – Mexico
Sayulita is an incredible place for the average surfer. There's a little something for everyone and a relaxed and friendly crowd. Travellers wanting to learn surfing would do wise to check in with Wildmex. Currently on two locations, they offer beginner courses, camps and surf safaris in the area.
Friendly, local and qualified surf instructors will take you onto your first ride, or show you some of the very best spots around.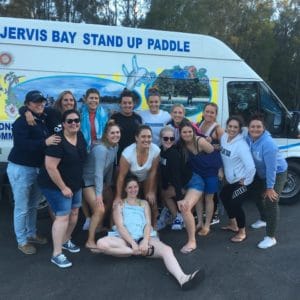 Jervis Bay Stand Up Paddle – NSW AUS
Jervis Bay Stand Up Paddle offers quality instruction in an encouraging and supportive environment. They have a fleet of quality NSP boards and offer lessons, tours and equipment hire.
Their instructors are qualified with the Academy of Surfing Instructors (ASI) and they are an ASI Accredited school abiding by the high international standards for Stand Up Paddle school operations. If you are heading to the NSW area of Australia, be sure to book a paddle tour or board rental with Jervis Bay!
Email: info@jervisbaystanduppaddle.com.au
Mobile: 0403 354 716
Surf, SUP, Race, Yoga & Foil  – Sri Lanka
Sri Lanka is a surfers paradise! There are many great resorts, surf camps and waves to surf or paddle when you get there. If you're looking for top notch accommodations, surf, foil, SUP or yoga instruction, you should have a look and be sure to plan a visit to some of our favorite destinations:
Nirbana is a beautiful boutique Villa set in the heart of Ahangama, South Sri Lanka. Sri Lanka's dedicated adventure experience with all inclusive access to world class instructors and practitioners offering Surf, Stand Up Paddleboarding, Yoga, Aerial Yoga, Meditation, Guided Tours and more. Be sure to connect with our NSP Team rider Bruno Pitanga for one-on-one foiling and surf lessons. Email:experience@nirbana.co, WhatsApp: +94 (0) 777 695 868
Next on our list is Talalla Retreat. A well positioned resort that not only looks after you to make sure your surfing experience is full on, they look after the environment and local community as well. "At Talalla Retreat, we work hard to ensure our environmental footprint is minimized and that the local community benefit economically from the retreat." M. + 94 77 9039515 E. info@talallaretreat.com
You can find NSP boards all over the island – especially here and here and here and here and here.
If you're concerned, Sri Lanka is steadily bouncing back from an incident last spring and should be included as a must visit island on every Surfer's, Foiler's or SUPer's bucket lists.
Does your travel or retreat business use NSP surf or SUP boards or foils as well? And you'd like to be included in this listing too?
Drop us an email here and we'll be in touch.