Description
NSP Fireball Technical Features
Shape details
• Separate strut and leading edge bladder for optimal tuning
• An evolved shape for handling, balanced power and efficiency
• Leading-edge profile and dihedral shape deliver efficient twist dynamics
• Tapered wing tips aid twist, reduce swing weight and windage
• Bladders are ultra-accessible through velcro/zipper secured hatches
• The strut and leading-edge tips are reinforced with light and durable PVC wear patches
• Tips are protected by wear & tear strips and reinforced TPU pads on the corners.
Smart bag design
The expandable bag section in the bottom of the Fireball bag will protect a fully-inflated strut. Whether it is in a truck bed, standing in a corner at the beach club or you are driving to the next spot (nobody wants sand, water or dirt in their car).
Learn more about this and other convenient features in this video.
Triple stitching protection
Additional two-ply strips in combination with triple stitching protect the trailing edge from stretching, wear-and-tear and it stops a potential rip in its tracks.
Hardcore Wingtip reinforcements
To protect the wing from rougher surfaces, TPU strips with vulcanized PVC protect the wing tips from punctures and wear.
Halkey-Roberts valve
Less time spent pumping means more time on the water. Two lightweight, high-diameter Halkey-Roberts valves allow fast inflating and deflating.
Smart SUP Pump Design
SUP valves that fit most SUP pumps, covered with premium PVC and secured with velcro covers.
Premium comfortable handles
Premium handles on the Strut and Leading Edge allow for hours of comfortable riding, sheeting in and out, gybing and getting as much power from your Fireball as possible.
Premium protective materials
Kevlar, PVC and TPU abrasion protection materials to increase the life-span of the Fireball.
Accessible bladders
Adding access windows for the bladder removal makes replacing of your bladder a matter of minutes, just in case you experience a pierced bladder.
Reinforced leash attachments
Double secured patching makes sure your leash stays where it is supposed to be, even in the strongest gusts.
Note how the leading edge handle is placed as neutral as possible, allowing for a completely depowered wing.
Dynamic dihedral
The main benefit of a dihedral design compared to a less angled setup is its self-correcting character. Unlike a flatter surface and its tendency to fight the rider, air flows past the wing and balances it, resulting in a composed and powerful ride.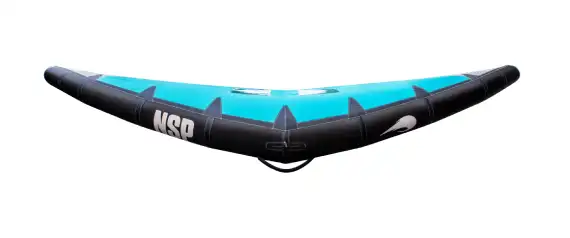 Additional Info & Getting started
GET GOING IMMEDIATELY
Out of the bag, the NSP Fireball is ready for action. First, secure the supplied leash. Using both valves, inflate your Fireball to a pressure no higher than 8psi. Find more information on how to set up your Fireball by downloading a short manual here.
By using both valves, inflate the leading edge and strut to create a strong, flex-resistant frame. Any common Halkey Roberts pump nozzles, used for high-end inflatable products like SUP's is going to fit, so do check if you have one of those at home.
Lift off by giving it a few shoulder rotations, some light board pumps, and off you go. Once flying, Fireballs feel fast, balanced and can easily be sheeted in for more power. Combined with the NSP SUP Foil Pro and NSP Airwave, you and your Fireball can start covering serious distances.
Click to find lots of HOW TO videos and information on getting started, how to properly store your Fireball and much more.
---
REPLACEMENT PARTS & MAINTENANCE
Designed to maintain its shape in all circumstances, the Fireball is stiff and features two bladders, making sure you can recover your equipment in case of a leak. If you run into any issues, NSP dealers will offer replacement bladders for both leading edge and strut sizes.