Description
FW 1325
As the smallest of the allround front wings, the FW 1325 brings just 1325 cm to the table but it still is the cornerstone of the NSP Airwave Setup. That's why we created a complete set built around this wing for just that reason.
A moderate foil profile offers a wide range of use, with a smooth ride and great speed. Recommended as the perfect setup for surf, wake, lighter- and middleweight SUP foilers.
"The FW 1325 became my go to wing after I learned to fly. I use it for anything from 2 feet to head high, as it pumps very well. When I manage to get enough speed out of the swell, it can be even better than the FW 1700 for connecting double dips, as it's more manoeuvrable but still very stable because of the moderate profile of the wing."
"This is the perfect wing for learning to carve, double dip and becoming comfortable with speed (I've clocked it up to 30 km/h in waves)."
Omar Sanchez, foil ambassador Colombia
@maretasurf
Due to the wide range of use, the FW 1325 comes standard with the Airwave FW 1325 set, as this is a perfect set for lighter riders wanting to get into foiling as well. In combination with the 70cm mast, the 70cm fuselage, and the RW 330 rear wing, this Airwave set is perfect for watermen wanting to fly over, instead of on the water! Compare all wings here.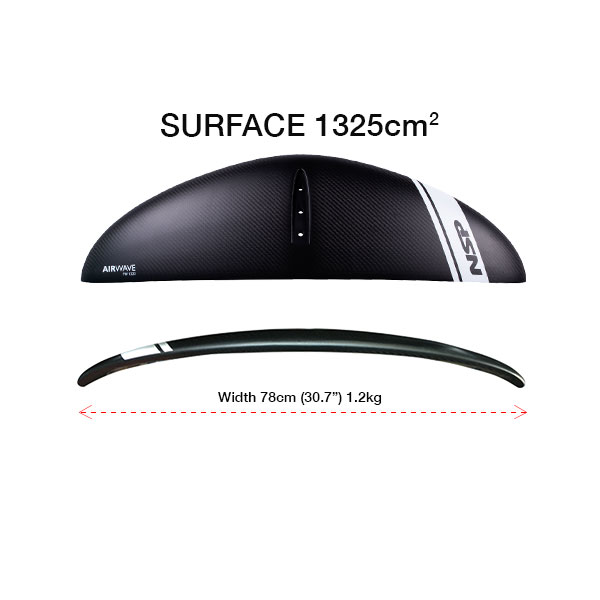 FW 1700
Wildly received by our test team, the FW 1700 has set the performance benchmark for early lift and stable performance. On the smaller days, the FW 1700 excels at surf and SUP foiling and it will perform well in wake foiling, free ride kiting and windsurfing too.
A similar curve as the FW 1325 offers a wide range, smooth ride and easy pump. The FW 1700 set is identical to the 1325 set but simply offers more lift, for heavier riders out there or foilers looking for a wing that works when the conditions are smaller than they anticipated.
"Very stable, lift is very well balanced, and maximum speed is just fine for having a lot of fun and good glides, but slow enough for a beginner to build confidence."
"I also love the 1700 for wingfoiling – very stable and able to fly at low speed and with lots of control."
Omar Sanchez, foil ambassador Colombia
@maretasurf
Massively popular, the FW 1700 quickly became the wing of choice for beginning and intermediate riders weighing 75kg and upwards. The FW 1700 set features this bigger wing, as it is a perfect combination for riders weighing a little more. Compare all wings here.
FW 2000
The big daddy – the FW 2000 is the Cadillac of the allround front wings. Less accentuated curvature than the FW 1700 FW 1325 means a higher degree of lift and directional stability. Expect a smooth ride with sustained glide and exceptional bottom-end performance for riders taking the FW 2000 in the surf, a wake, or wing foiling. If it wasn't already stable, the winglets increase directional stability even further.
15% more surface area than the FW 1700, it's ideal for bigger riders. A wingspan of 100cm makes this the big daddy of our allround front wings.
"This wing's interesting, as it looks massive but doesn't behave like other big surface foils. Its speed envelope is surprisingly deep when wingfoiling – meaning it doesn't saturate in speed as you'd expect."
Alain Teurquetil, foil board designer
You are not going to turn this foil on a dime, but its sustained glide and consistent lift, even at lower speeds are very rewarding when the conditions are small. Out of all allround front wings, the FW 2000 is the most stable and directional one. For wingfoilers, the FW 2000 foil is a must! Compare all wings here.