NSP Surfboards Collaborates with Hawaiian Carl Schaper
With decades of experience in the shaping bay, Carl Schaper belongs to the higher echelon of shaper royalty on the island of Oahu. Knowing a thing or two high-performance surfing, he has shaped boards for some of the very best, including longboard world champions, pipeline chargers and industry legends like Garrett McNamara (Guiness Book of record for biggest wave ever ridden).
The Dream Factory
Holding court at the Waialua Sugar Mill, Carl Schaper manages a former warehouse that houses a shaping bay, a surf shop with over 200 customs at all times, plenty of surf accessories and an art gallery featuring works from local artists.
Watching the video below really shows just what a perfect setup it is. A wide-open showroom, with a clear view for shop visitors who get to see what goes on in the shaping and glassing areas. It's basically the stuff of dreams,  making those stuck in a 9-to-5, selling insurance re-evaluate some of the choices they made down the line (no pun intended).
Carl Schaper design philosophy
"Keep it simple, stay neutral and make sure the boards are fast. Get the right board for the right guy for the right conditions."
Working with Carl Schaper
Work with a craftsman like Carl Schaper allows NSP to move ahead with additional performance shapes. We are excited about our gun range, but the collaboration extends to longboards, funboards and very recently, shortboard too. Think high-performance shapes for accomplished riders, both affordable, durable and built with the latest in surfboard technology. It doesn't hurt if pro riders use them on the WSL QS as well.
Having shaped for the who's-who of Hawaii surfing, Carl Schaper Hawaii is established well beyond the Aloha State. For those who are new to surfing or would like to learn a little more about Carl and this collaboration, we asked him some questions about his career, his shapes and surfing:
Hi Carl, thanks for doing this. So, let's start with the basics; do you have a nickname?
No, No nickname:), at least not one we can print.
Where are you located?
I live on the north shore of Oahu, in Haleiwa. My shop is at the Waialua Sugar Mill:
How long have you surfed?
I think I've been surfing for 49 years now.
Where did you get started?
Virginia Beach, Virginia.
Who were your mentors growing up?
Dick Catri was the first guy to give me a job, the crew working at the time was Freddy Grossgritz, Larry Pope , Tommy Maus.
Any competitive surfing accolades or titles you want to share?
As a kid the group of guys I surfed with were pretty anti-contest, later I did surf a bit of competition in Puerto Rico. My best result in an island-wide contest was second.
When did you shape your first surfboard?
I was playing around with surfboards as soon as I started surfing, repairs and stuff like that. Eventually, I shaped my first surfboard in Cocoa Beach, Florida when I was seventeen.
Who were you shaper mentors growing up?
There where so many different shapers that helped me along the way. Early on, Bob Tomb and Gregg Lohr were the guys I really looked up to. And later when I started to understand what I was doing, Nestor Ramirez and Rick Bullock were a couple of guys that really helped me along.
Today where do you get your inspiration from for the boards you create?
Mainly feedback from my customers and staying in the water.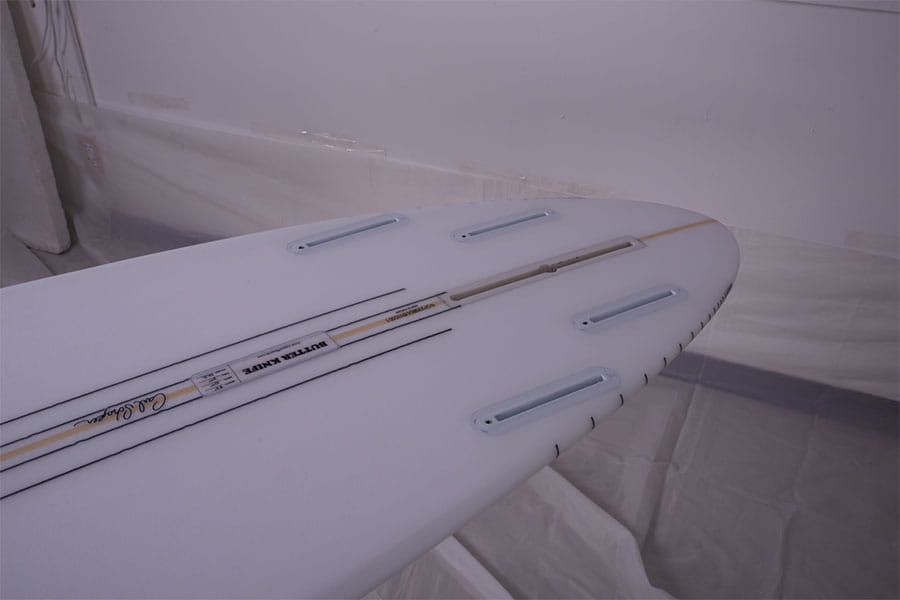 Who was the first big-name surfer to use one of your shapes?
Back in the early 80's I would say Edwin Santos, after that in 1990 Mark "Occy" Occhilupo and then just a few years later I got hooked up with a range of local high-performance longboarders from the Island here.
Any top surfers using your boards today and any titles?
The usual thing, grooming some young kids on short and longboards.
How do your current shapes compare to your shapes from back in the day?
Oh much better.
Why did you get involved with NSP?
I have been involved with Cobra Composites for quite some time, since I was the first shaper to jump in with South Point Surfboards – which went on to be successful. I had done some models for NSP, one of them being the 11'0 which was extremely well received.
I guess to really answer your question, I just rolled into a relationship with NSP and why is easy, Cobra Composites is the leader in moulded surfboard technology, so globally it is a pretty good place to be.
What product range will you be shaping for NSP and who is the target market?
I've worked on a range of high-performance boards, and the genre centres on guns, longboards and fun shapes .
Is surfing still as popular as when you were growing up, is there any downside to the sport today?
Back when I was growing up, surfing wasn't popular at all. To tell you the truth I can't think of any downsides – I don't have any complaints.
How do you see foil surfing fitting into the sport?
I think foil surfing will be another niche sport along the lines of kitesurfing and windsurfing etc…
Where do you see the overall surf shapes going in the future?
I've always said it's pretty difficult to reinvent the wheel. I currently feel that we are going back to shaping similar boards to the 1989 designs, and of course they are slightly more refined, but the basic shapes have a lot of similarities.
Give us 2 fun facts about you personally that people may not know.
Firstly, I was born in Fort Smith Arkansas. And then, although I am on the map as a well-known longboard shaper, and I had always shaped longboards,  I had not ridden longboards prior to shaping them for a select group of locals.
I am stoked about another deal with NSP and getting some new models out there. I feel NSP is on the cutting edge of surfboard technology as they are built by Cobra Composites, easily the best moulded surfboard company in the world and also a leader in hand-laid up composite construction through all genres.
With 44 years of surfboard experience and being on the North Shore, I have a wealth of solid designs that we can bring to our customers in cutting edge construction and at a great price point. I'm stoked to be able to ride this new wave!
Thank you Carl Schaper
Make sure to check out Carl's boards below, and read up on the Shaper segment elsewhere
on our website here
.
Absolutely gorgeous looking, high-performance, thruster-only shortboards, benefiting from vintage construction techniques.
• Traditional custom-shaped polyurethane (PU) core.
• High-quality materials finished with a satin rub for a custom board finish.
• Wood center stringer for strength, flex and rigidity, tying together the traditional PU build.
• NSP-designed FTU fin boxes (compatible with Futures®)
Click here for all PU shapes that we currently make at NSP.
CSE is NSP's high-performance custom surf epoxy lay-up, with a UV-stable resin and satin rub finish. Clear UV-stable resin, CNC-cut and hand-shaped to detail by our very best craftsmen, CSE boards benefit from specific glassing schedules, carefully selected to get the most performance out of your CSE shape. This way, the perfect construction and layer combination makes it into your Shaper's Union surfboard.
Click here for all CSE shapes we currently produce at NSP.
NSP's Nature Flex technology is NSP's latest eco-friendly line in surfboard construction. Building on the overwhelming response to the CSE range designed by Carl Schaper, NSP R&D created an eco-centered alternative for the Shapers Union Pro-9, Butter Knife, and The Cheater.
Nature Flex lay-ups consist of a strong, SecureCell EPS core, which benefits the environment by minimizing foam cut-offs and foam dust waste. The core is reinforced with a 6mm bamboo wood stringer and wrapped in a strong, durable and warp-resistant Paulownia wood skin.
The result is a state-of-the-art surfboard shape, with an eco-friendly footprint and a classic design.
Related posts
Titouan claims APP Paris SUP Open Men Elite 1st Titouan Puyo, 01:13:42 2nd Bruno Hasulyo, 01:33:55 3rd Christian Andersen, 01:14:00 4th Manuel Rojas, 01:14:09 5th Clement Colmas, 01:14:24 6th Ludovic Teulade, 01:14:39 7th Tom Auber, 01:14:42 8th Itzel Delgado, 01:16:35 9th Ricardo Rossi, 01:16:40 10th Donato Freens, 01:16:47 For full results please click. Women Elite…

Sweden, Paddy secures long-distance title at GløGlø in Malmo city centre Leave it to the Swedish to do cold and harsh stuff in their spare time. Just ahead of Alpine Lake Tours' famous GlaGla Race, the Malmö Kanot Klubb have taken it on themselves to organize their own harsh winter race and call it…