Ty Judson reviews the NSP Airwave Hydrofoil
About Ty
Ty Judson is an International Team rider for NSP, avid racer and overall waterman hailing from Australia. You can follow him on his Facebook channel and instagram under @tyjudson_
Apart from going fast and winning races, Ty's an experienced foiler. Having tried several models in different constructions, shapes and sizes before, we sent Ty a pre-production Airwave, which is our in-house hydrofoil made for SUP and surf.
About the NSP Airwave
The new NSP Airwave mixes high-performance pre-preg carbon with precision milled anodized aluminum. The wings,  mast and fuselage designs have evolved over several iterations, combining stability, durability, price and performance.
Perfect in small to medium-sized waves, the Airwave suits both light- and heavier riders. Designed for regular surfing and SUP, the NSP Airwave can be towed and the three included shims allow trimming for different conditions. Additional mast- and wing sizes allow you to customize your setup even further.
Ty touches on the different mast length below in his review. Concerning front wing size; a good rule of thumb is that a smaller front wing lifts later but allows for a higher top speed, whereas as bigger front wing lifts earlier but won't go as fast as a smaller winged fuselage.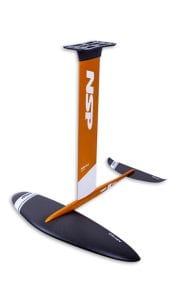 Ty Judson:
"After a couple of months riding the new AirWave Foil, I continue to take it out whenever I can. The performance of the 1325 wing paired with the 330 rear wing blew me away from the get-go, and I haven't looked back since."
foiling multiplied my time in the water
"Think effortless lift and a noticeable difference in speed you get from the wing. To me, foiling multiplied my time in the water, and I guess that's what it's all about – more time on the water, in search for the endless glide. That's why I'm so stoked on the new wing by NSP."
"So, from the top, putting the setup together is easy. Once you have all the parts out, the shape of the different parts makes assembly self-explaining. With the new mounting plate, attaching the foil to the board is easy as well. Unlike a tuttle box requiring some aggressive wiggling, you just slide the plates into the box, start tightening bolts, and slip the foil on."
Editor's note:
The package comes in one bag, including tools to set up the entire setup. We embedded a movie below, showing the contents of the bag. So if you haven't had the chance to explore an Airwave in person, have a quick look at that.
Enjoy the silence
"One of the first things you notice when flying this foil is silence. No whistle, just a breeze in your face and an odd elevation over the water surface that really adds to the sensation of flying. Once you come to grips with the required input, manoeuvrability of this foil is effortless. Its main wing has minimal drag and a thin-profile rear wing; it glides effortlessly in the neutral position, allowing you to stand naturally without the need to have excessive weight on the front foot. Some of the other earlier brands will force you into a breach as you pick up speed, but this one doesn't, so there's no need to constantly bury the nose down in your cutbacks. To me, it makes for the most natural feeling foil I have ever ridden."
"Having that extra bit of rider personalization caters to beginner and advanced foilers. Having different lengths of masts available is one of the best product features (apart from the strength and rigidity). The 70cm mast comes standard with the package, representing the benchmark for intermediate riders. For riders looking for a more gentle learning curve, the shorter mast options offers faster progress. The 80cm mast works well for riders wanting to get into the downwind game, or surf bigger waves where you get to push out long drawn cutbacks."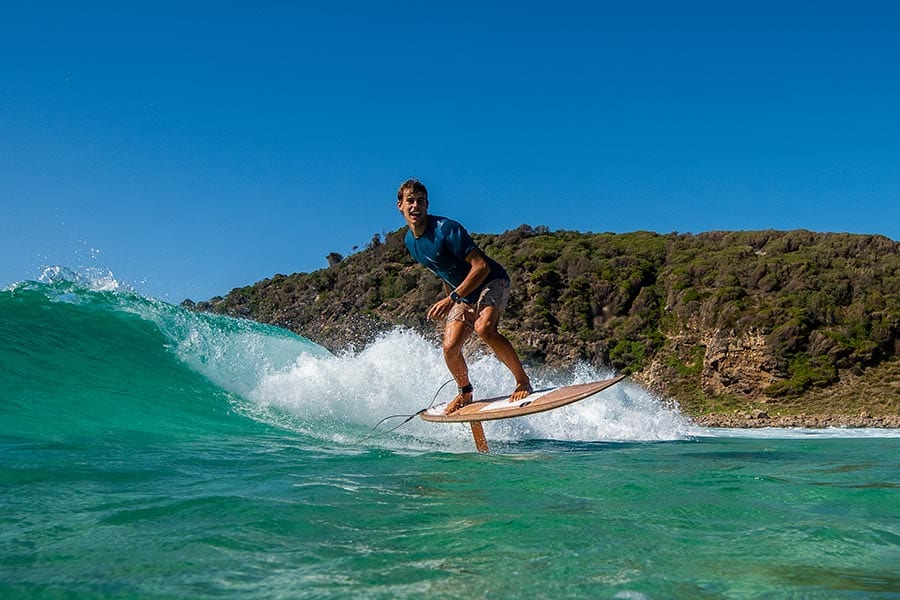 "Both different conditions and preferences is what determines the angled shim for the rear wing you use. I have found the larger the degree, the more stable the wing will be but also give you a touch more lift and slow you down. The lowest degree will give you that extra speed which makes the wing more manoeuvrable, it gives off the "rail to rail" feel, or 'wing to wing' if you wish."
"Power generation is indescribable – the wing really is something else. It gives it a kind of 'pop' feel that allows you to catch endless waves from the one take off. This something you really have to experience yourself. My count so far is up to 12 waves in one ride, and that's a lot of loops and a hard workout."
Note editor:
In the pictures, Ty rides a 6'0″ CocoMat Hybrid Foil. It's light, and in addition to it's triple fin setup, it has a twin track setup to accommodate the foil.  Note that we also build dedicated Foil surfboards and paddleboards:
Related posts
Learning how to surf is going to take time and skill before you are confidently going to catch and surf a wave. And while some get going relatively easy, others struggle to make any progress at all in their first few sessions. But here's some awesome news for you! Depending on your fitness, the conditions…

With decades of experience in the shaping bay, Carl Schaper belongs to the higher echelon of shaper royalty on the island of Oahu. Knowing a thing or two high-performance surfing, he has shaped boards for some of the very best, including longboard world champions, pipeline chargers and industry legends like Garrett McNamara (Guiness Book of…