Anni's surf trip in Philippines
The WSL QS3000 in La Union, makes for an excellent Surf Trip
The competition was held on the 18th-25th of January at Monaliza point, near San Juan in La Union, Philippines. It's a feeder event for the WSL Tour, aimed at up-and-coming Asian athletes.
"La Union is located 7 hours north-northwest of Manila by van, there are some small airports where you can take a plane if you need to get there faster and budget is not an issue."
"When you arrive – I highly suggest you book someone to pick you up in manila so everything goes smoothly."
"I didn't have my board bag with me on the first couple of days because I almost missed my connecting flight, but my board bag positively missed it."
"Luckily scoot sent a driver right to my doorstep 3 days later. The waves were flat for those 3 days, so I wasn't that upset ( that I didn't have my boards) If the waves were pumping I'd be fuming."
"I knew the wave conditions change very quickly at Monaliza point so I packed 4 boards to cover all scenarios."
"The boards that I took were all brand new 2023 NSP Slot Machine"
"I prepared myself as much as I could with the remaining days before the comp started, Practicing every morning and evening."
"This was a 3,000-point qualification for short boarders On the Q.S. – but also a 1,000-point qualification for the longboarders, so the lineup was jam-packed with talented surfers hungry for waves and trying to not run over each other."
"I came 3rd in my very first heat which seems to be a common theme for my 22/23 Qualification year."
"it bugs me because I always seem to be slightly off the mark each time, but that's competitive surfing and I get to learn so much from it."
"The days after my run in the WSL competition, consisted of training (surfing), networking, meeting new and old friends, and getting to catch up with people I haven't seen in a while."
"Got the chance to visit the legendary waterfall (Tangadan Falls) and surf a new spot located on the east side of the island called Baler. To get there was a 5-6 hour car ride but the waves were worth every second of it."
"The 'Single & Unattached' was a longboarding event held right after the WSL and luckily for me, 8 Thai surfers attended this event so it was awesome having a big crew around."
"The comp was full of outside activities that really showcased the town of la union and I absolutely loved it!"
"A huge shoutout to all the people, athletes, and sponsors involved in the event you guys made it special!"
"After Single & Unattached ended it was time for me to head home."
"It was a very worthwhile trip and I'd like to thank all my friends, family, supporters, and sponsors for this incredible journey to the Philippines."
All my Love … Anni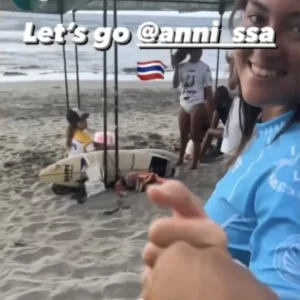 Who's Anni
Annissa Flynn is a Thai/Australian NSP Team Rider competing in the WSL Asian Qualifying Series, gunning for a spot on the WSL down the line.
Find & follow Anni on social media, or leave her a comment:
Related posts
About Ty Ty Judson is an International Team rider for NSP, avid racer and overall waterman hailing from Australia. You can follow him on his Facebook channel and instagram under @tyjudson_ Apart from going fast and winning races, Ty's an experienced foiler. Having tried several models in different constructions, shapes and sizes before, we sent Ty…

So in this how-to video on ding repair, we are going to show you how to repair a ding in your epoxy surfboard. In the video, you'll hear Jonesy mentioning he accidentally let his board slide out of the car, onto the pavement. This caused a minor ding and to be fair, accidents like these…