Saving the planet, one Coconut at a time
From the entire NSP line-up, a CocoMat Surfboard is our most environmentally friendly product you can buy, and yet it doesn't compromise on performance. All thanks to the outstanding performance of the natural fibers used, and some smart R&D for the production process. But very few people know how CocoMat boards actually came about.
The husk fibers themselves have been around for centuries, and ancient civilizations have used them in the past for their strength and universal availability. But it took until 2010, when NSP's leading manufacturer came across Harmless Harvest. Founded just a year before, this company aims to deliver processed organic coconut water, harvested with environmental sustainability, and to provide fair wages and healthcare for its employees.
That mission statement extends to Thailand, where the "Harmless Harvest" coconuts are grown in rural Thai communities. And by chance, one day, a surfboard engineer cycled through one of these communities outside of Bangkok and came across a heap of husk fibers, a side-product of the coconut harvesting process. Intrigued, he purchased some samples to bring them back to the factory for testing, and the rest is history.
NSP's main manufacturer has always kept an eye open for organic materials in their production process, testing different fibers from bamboo- and banana trees. By chance, an organic byproduct of Harmless Harvest turned out to be an excellent reinforcing agent for precision molded surf- and SUP boards.
By using raw coconut husk fiber and eco friendly bio-resin, CocoMat boards are recognized as some of the most environmentally friendly boards on the market. They carry the Internationally recognised EcoBoard certificate, indicating that considerable effort has gone into a product that's more sustainable and has less of a carbon footprint than conventionally produced surfboards.
Does the technology hold up in real life?
That's a resounding YES! Out of the boards tested by a 3rd party, both came back with a grade A, and whether it's surfboards or SUP boards, Cocomat technology allows boards to be light for carrying and paddling, with the necessary response, flex and strength to perform at the limits of your skills.
But it all starts at the Harmless Harvest plantations, and when we were given the opportunity to visit one of their farms we couldn't say no. A two-hour drive outside of Bangkok, we are led into an intricate network of moats and vast lines of palm trees.
The plantation owner tells us their palm trees are shorter than the usual palm trees for good reason. Where a lot of coconut plantations rely on monkeys and their handlers to do the picking, Harmless Harvest does not condone this practice.
To make sure the coconuts are still within reach of the people working on the farm, the palm trees are noticeably shorter, allowing staff to cut down the coconuts with a bamboo rod that ends in a curved blade.
It has to be said that the particular breed of coconut trees used on the plantation are crossbred for harvesting coconut water only. The husk fibers of this particular species are a favourable sideproduct.
It's a precise process, and once cut down, the coconuts plunge directly into the water. Not only does this help transportation, the cooler water also keeps the coconuts fresh and makes sure none of the tasty coconut milk evaporates.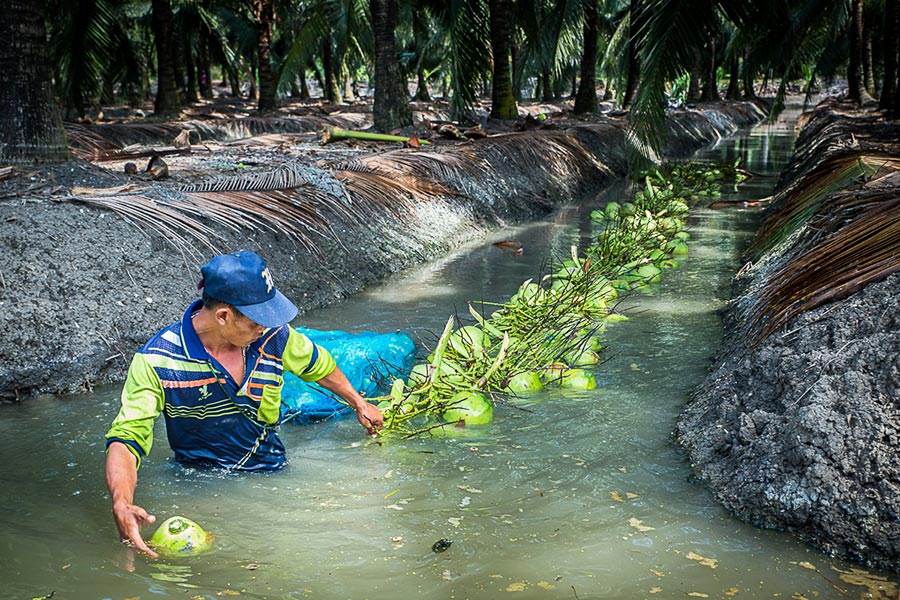 Seeing the process before your eyes lets you understand how ingenious the setup of moats, trees and walkways really is. The use of water not only solves the problem of transportation, it also helps irrigation of the trees and "refrigeration" of the harvest. It's an elegant process in its simplicity with absolute minimal damage to the environment.
For centuries, the fibers inside the coconut husks have been used to make ship ropes, as it is one of the very few natural fibers that is relatively waterproof but also resistant to saltwater damage. With the Cocomat technology, NSP makes use of a unique fiber and a tree that has so many different applications.
NSP's high end eco-friendly technology for uncompromised performance. Amazingly light with serious performance!
CocoMat is an innovative, sustainable, proprietary and patent-pending technology. NSP uses raw coconut husk fibers from natural sustainable plantations with eco-friendly epoxy resin.
Visually unique board with competitive strength to weight ratio.
Light to carry, easy to manoeuvre and even lighter to paddle.
Responsive flex and strength gives confidence to push your limits
Water-based dye pigments (another innovation) contains zero solvents or other toxic additives.
Related posts
Learning how to surf is going to take time and skill before you are confidently going to catch and surf a wave. And while some get going relatively easy, others struggle to make any progress at all in their first few sessions. But here's some awesome news for you! Depending on your fitness, the conditions…

Titouan claims APP Paris SUP Open Men Elite 1st Titouan Puyo, 01:13:42 2nd Bruno Hasulyo, 01:33:55 3rd Christian Andersen, 01:14:00 4th Manuel Rojas, 01:14:09 5th Clement Colmas, 01:14:24 6th Ludovic Teulade, 01:14:39 7th Tom Auber, 01:14:42 8th Itzel Delgado, 01:16:35 9th Ricardo Rossi, 01:16:40 10th Donato Freens, 01:16:47 For full results please click. Women Elite…