Description
Allrounder CocoFlax Colour Options
Allrounder CocoFlax awarded "Gold Level" eco-certification
The unique construction of this allrounder was awarded at Germany's Paddle Expo as "Product of the Year", and continues to take the SUP world by storm with its formidable strength-to-weight ratio, ding resistance, its green roots and great performance characteristics. NSP Cocoflax boards are about sustainability and exemplify NSP's commitment to recycling and integrating sustainable manufacturing methods. CocoFlax boards are without a double some of the most eco-friendly boards on the market right now.
Allrounder CocoFlax reviews
"The Cocoflax's wave-catching ability is formidable"
SUP International (check the full review)
"These Surfboards & Paddleboards made From Coconut are the Real Deal"
GearJunkie Product Review
Allrounder CocoFlax Construction
Amazingly light, yet strong, high-end eco-friendly performance boards featuring natural Flax rails. Recognized and awarded at the Paddle Expo as "Product of the Year". What's more, all NSP Cocoflax boards carry the highly desirable "Gold Level" Ecoboard label. Boards carrying this label are manufactured with more sustainable materials, sourced from responsible supply chains, and made by board builders with improved manufacturing processes.
Eventually, NSP introduced uni-directional (UD) Flax fiber rails to its (already) eco-friendly CocoMat series. Flax is a highly durable and naturally reinforced fiber that allows a board construction with significantly less fiberglass, which reduces our overall carbon footprint.
– Natural Flax fiber rail and tail patch – Visually unique board with an unmatched strength to weight ratio. – Light to carry, easy to maneuver and even lighter to paddle. – Responsive flex and strength enable you to push your limits.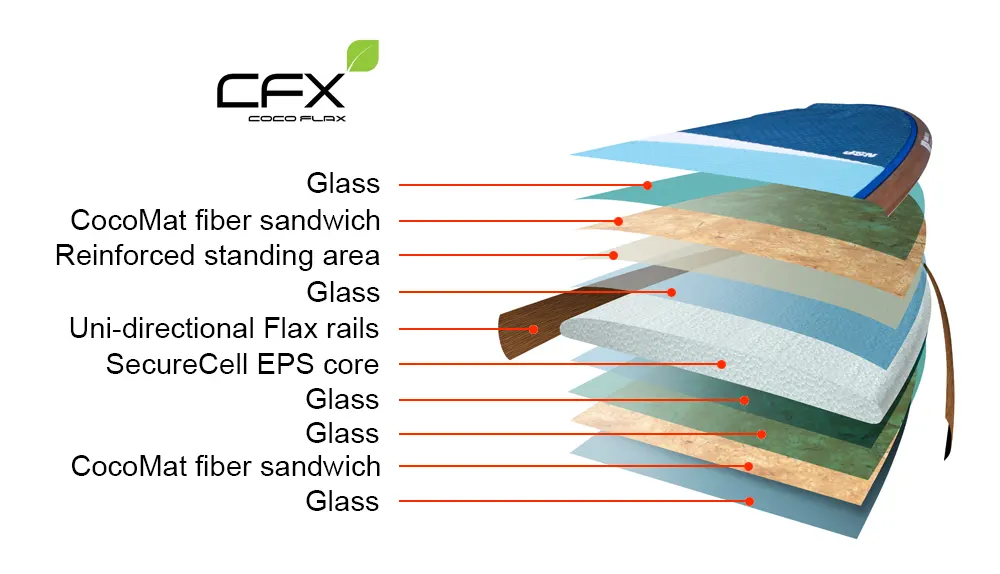 Mike Laielle from Primal Surf takes out the Allrounder CocoFlax
Allrounder Cocoflax Profile
Allrounder Cocoflax Features
Allrounder Cocoflax Action