NSP presents 2022 Pro Carbon Race line-up
NSP announces the latest additions to their racing program with new and improved 2022 Pro Carbon line-up of their Ninja flat-water racer, Puma beach racer, Carolina all-water racer and graphic updates for the two downwind racers, the Molokai and Sonic.
Aside from the colour changes that will bring the new board in line with the rest of the NSP Racing collection, the new Puma benefits from a rocker line that the design team adopted from the NSP Carolina – a shape that has proven itself in some of the most competitive races on the tour and always comes out on top.
Like the previous year, the NSP Puma comes in six sizes with key design improvements to make it the ultimate flat-deck racer.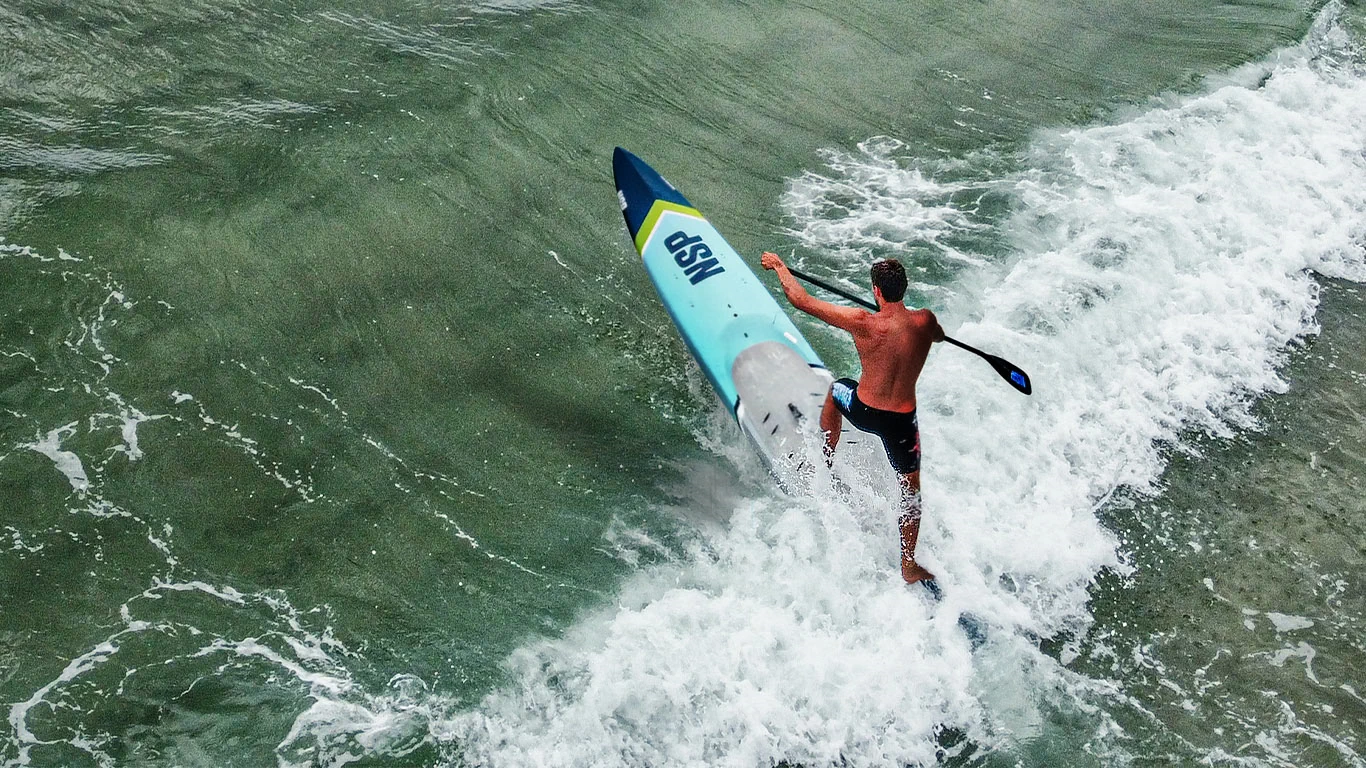 SAME ROCKER – LOTS OF IMPROVEMENTS
With the race team requesting that the rocker lines remain the same, the design team concentrated on other areas of the boards to improve balance and handling under racing conditions.
By slightly raising and reinforcing the cockpit rails, NSP builds a cockpit that keeps out more water. These improvements mirror a change at the stern of the board, where the recessed deck has been shortened so that less water gets in and water drains more quickly, allowing for more productive buoy turns.
A subtle shift of the four AVS pods (Accelerator Vacuum System) towards the rocker improves the AVS performance, and the recessed area of the Ninja and Carolina drains more effectively.
Albeit subtle, riders will find the design changes improves the overall handling and balance of the 2022 Ninja and Carolina, making the boards more efficient in bumps and turns, while being faster in open waters.
Designed by Alain Teurquetil and tested by International NSP Teamriders Titouan Puyo, Ty Judson and Kaelan Lockhart, these evolved designs are now in production and coming to a winners podium near you in '22!
NEW GRAPHICS FOR THE MOLOKAI AND SONIC
Moving forward, the Molokai Unlimited and the Sonic Open Ocean racer  will receive a make-over, with both models adopting the latest color scheme of the Carolina, which has been seen on so many winner podiums in 2021.
The Molokai and Sonic will now tie in with the rest of the Pro Carbon line-up. What's more, all-new board bags and paddle bags in matching colors are available for a complete and uniform racing package.
Check out the new Raceboards:
Related posts
Great results from the entire NSP racing team in France this weekend at Euro Tour Vendée Gliss! After a cool, fun 10km downwinder, the racers were met with some brutal sidewind conditions, followed by a long 200 meter sprint to the finish line. Having settled for a 4th place finish in Carolina, the leader of…

Technique with Travis This fast beach start tutorial is the first in an NSP exclusive series of short, instructional videos by Travis Grant. His tips and techniques will help racers like yourself to improve and perhaps iron out some of the kinks in your current routines. Travis explains fast beach start techniques About Travis Travis Grant…