Carolina reviewed in-depth
Disclaimer: The paragraphs below were written by Ted Schatz (#IG), a recreational paddler who likes to go fast, just like Ricky-Bobby. So naturally, Ted connected with Jeramie Vaine at one point, who is NSP's North American Team Manager. Bob and Kim were also instrumental, as their shop "Gorge Performance" has been Ted's go-to place for demos and raceboard testing.
Note that the paragraphs below are excerpts and that the original text is much longer. So please find the link at the bottom of this page for more in-depth information.
Something about Ted, the reviewer
I am an exceptionally average paddler at 6'1″ tall (edit: that's 185cm), 180lbs (81.6gk),10% body fat and 40 years old.
Okay, the body fat part does not really matter in this review – I just felt like bragging. I have yet to win a race and generally end up somewhere near the middle of the pack within the group I paddle with.
If you have been following his blog you will know that Ted has had some health issues last year and has committed to paddling 1000 miles this year as part of a fundraiser and to fight his chronic condition.
No budget for multiple boards?
"I have now paddled all the boards in the NSP race line up. I can honestly say there is not one that I do not like. If you like flat decks, the Pumas are incredible. If you mostly paddle in flat water the Ninja is great. You want to downwind go Sonic. If you like me do not have a budget for multiple boards, the Carolina could be the one board quiver answer."
What size should you go with
"I can say without a doubt that the 24.25 is the width for me. I contemplated the 22.5 but truly feel that would be an ego move. For my skill, weight, height and body fat percentage of 10%;) The 24.25 would be a 90 percenter. A board that will work in 90 percent of the conditions that I currently paddle at my skill set. This board would be my go-to race board. In my limited racing experience stability is important. I will likely be faster on the 24.25 than I would be on the 22.5″
What about rivers?
"For the next test I decided to ditch the safety of my local lake and get this board on the mighty Columbia. The river was flowing at 100K+ cubic feet per second. So why not test out the board with an upstream grind? Did I mention the wind was also blowing? So upstream, upwind we go. When getting this board onto the moving water it took me a few minutes to settle in. Some boats had gone by giving me a nice side wake combined with the wind and current and there was just a lot of movement in the water."
"I can say that this board seems more "sensitive" to movement. For me, I seem to notice that when paddling dug-out boards I can feel the rise and fall of the water more. This could be due to the increased "reserve volume" as Travis Grant calls it.
In fact, I believe this is why these boards catch bumps extremely easily. So after some initial instability, it was time to grind. This board did great into the wind."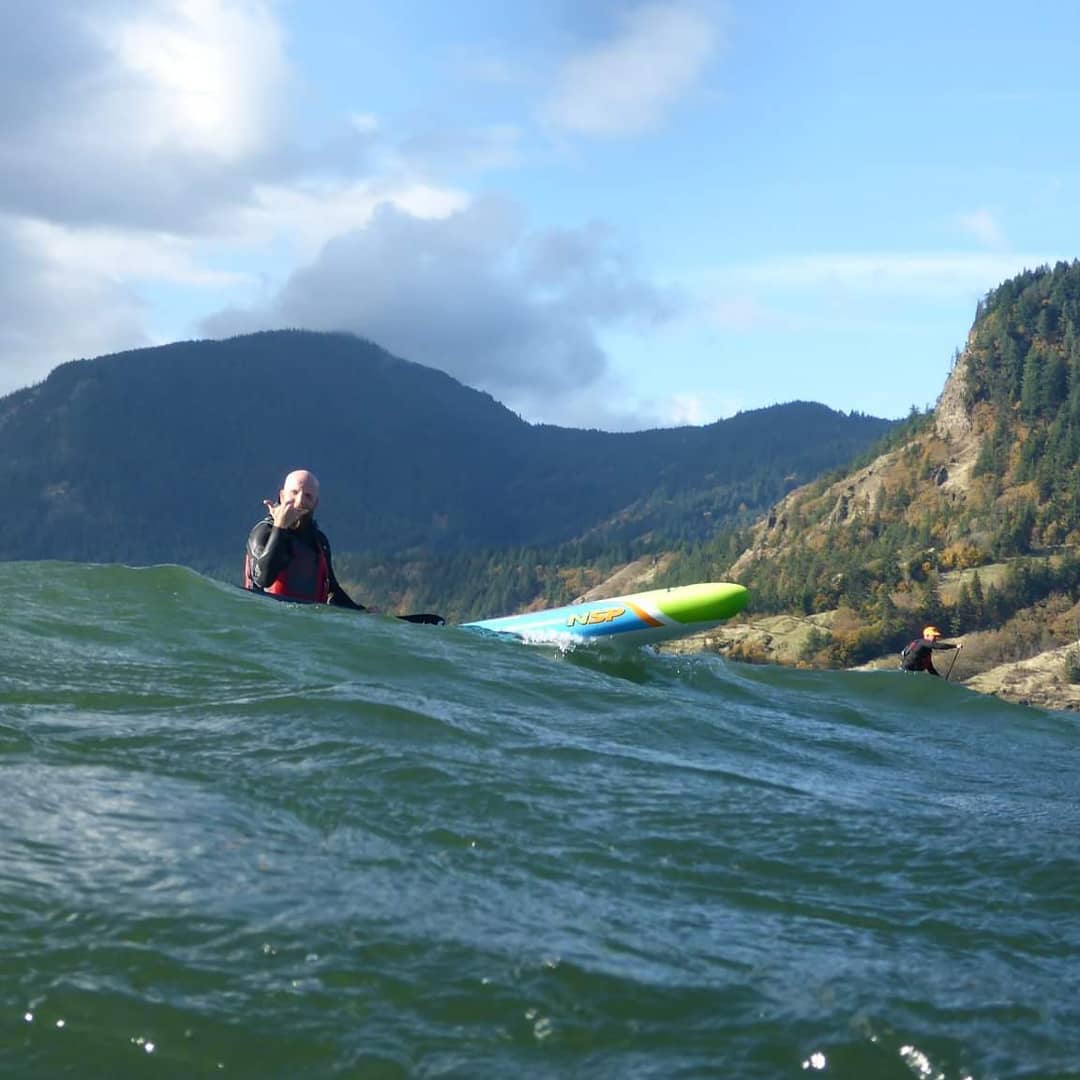 First dig at the dug out
"I have spent very little time paddling dug out style boards. So I do not have a huge reference for other boards that fall into this category. I have paddled the NSP Sonic at 24" wide so I will reference a few differences between these boards in my experience:
Dug out boards paddle different. If you have never spent time on one they will feel weird at first. You will feel a little trapped. For me, they also feel a little tippy every time I first get in one. However, after spending a few back-to-back days on one, I can say that I now like the differences."
Editor:
Ted shares some key insights that Magazines or other professional reviews often tend to skip, so if you are in the market for an NSP Carolina, check it out here. Ted also tells a little about himself and his training, making his blog interesting to anyone looking to take their (performance) paddling to the next level.
Related posts
Great results from the entire NSP racing team in France this weekend at Euro Tour Vendée Gliss! After a cool, fun 10km downwinder, the racers were met with some brutal sidewind conditions, followed by a long 200 meter sprint to the finish line. Having settled for a 4th place finish in Carolina, the leader of…

This week in Technique with Travis, we're going to have a brief chat about SUP racing strategy, and what to do to get the very best out of your training when it's time to compete. Travis of course is no stranger to competition himself, having numerous big titles on his name, and coming in third…