Is Stand Up Paddleboard Racing dying?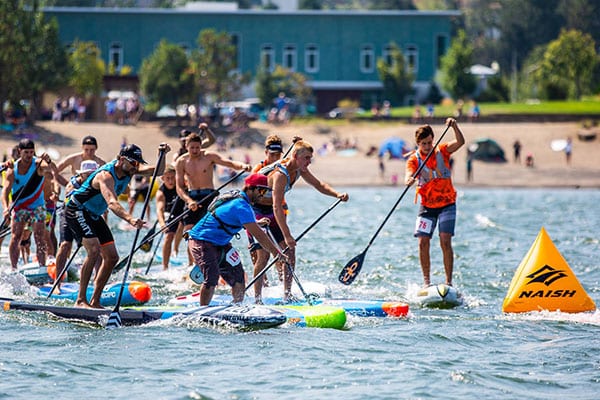 What Made me Start Racing
Arriving on the beach. Nervous. Scared. Sweating palms. Wondering if I made the wrong decision. Do I really want to race my stand up paddleboard?
Seven years ago. I was introduced to stand up paddling. Vowing never to race.
It took one event. To change it all.
Standing on the beach. With butterflies the size of beach balls. Fluttering through my stomach. I felt like sliding back away into the bushes where no one could find me. Escaping out to the parking lot and leaving the event.
As I was standing there. The excitement of others is what kept me on the beach. Countless amounts of people came over to say hello. Introduce themselves. Talk about the conditions. And upon finding out that this was my first race. Rave to me how much fun it is. And how great I'll do.
They were so right.
Are we Pushing New People Away from Stand Up Paddleboard Racing?
Over the years there has some banter going around about the state of the sport of stand up paddleboard racing. Whether it is growing. Dying. Becoming stagnant. And so on.
We have seen some races reach all time highs of attendance. And sadly other races having to stop running because of a decline in attendance.
Anyone of us can speculate on why. But a general observation has revealed this.
Racing is intimidating.
Not because of the conditions. But rather how we have positioned it to be for only those who spend countless hours training and thousands of dollars on equipment.
None of us mean for this to happen. But as the sport has grown. And many of us have been involved for a significant amount of time. The competition side has began to outweigh the community.
What do I mean by that?
When we walk up to an event on race day. We have a cheerful smiling faces walking around. But many of us. Are focussed. Thinking about our race. Did we bring the right fin? Do we have our life jacket, leash and etc?
To someone brand new to the sport. We look very unapproachable. And they feel as they have made the wrong decision. As they haven't trained. Borrowed a board from a friend. And do not even know what a PFD is. While it is hanging from their waist.
Growing the Sport
Over the years I have heard people say they wish it was more like the early days of Battle of the Paddle. And for those who do not know about that event. It was the World Series or Super Bowl of stand up paddling. People from across the globe would descend on Doheny Beach for a week to hang with friends, watch the world's best and cheer each other on.
What has changed?
We became serious about racing. And that is not a bad thing.
But by doing so. We have lost a bit of the connection to seeing a stranger at the start line. Saying "hello"; giving them a high five and making a friend in the process.
It is up to us to start breaking down the walls we put up on race day. Softening the edges on racing. Taking it seriously but remembering that the people around us are friends for life. And this race is just a fun workout with a bunch of friends from all over the world.
If we say hello to one new person. And share a positive thought to someone who looks intimidated or is questioning trying to race. It will go a long way.
We also can create local paddle groups. Even though one person may be faster than another. Paddling together will encourage others to join in.
Our sport is just a baby. Ten years old. Before we get so excited to turn it into a teenager, we should enjoy these fun years of growth.
This past fall I attended an event that I really enjoyed. But beyond the camaraderie of my fellow paddlers. The structure of the race divisions resonated with me.
At the event this fall the race divisions were simple. Male and Female Pro, Pro-AM and Fun.
The set up provided for a quick awards ceremony but focused more on everyone spending time together talking about their personal accomplishments.  If we were to adopt a similar structure it would take away from the need to give away so many awards. And bring down the cost of the event.
One of the toughest things all the race directors has to deal with is providing enough awards to the participants. And doing it quickly. Especially now with all types of paddle crafts joining in on the fun.
I understand that we all want to receive our accolades for achieving a personal goal. However I ask the question, did we get into the sport because of receiving a medal or because of the people in the sport?
If we all support each other. Whether we finished 1st or 60th. That will keep us all coming back. And help introduce more people to what we love doing. From my experience, getting a bunch of high fives from my good friends feels way better than standing on a podium and receiving a few, is this over golf claps.
Our sport is in a great place. As it is in our hands to make some changes. To share it with all of those around us. And get them just as excited as we were on that first race.
Let's face it, we have enough stress in our life. This is our hobby. The place we seek out and find happiness. And the competition is great. But friendship is king.
I hope to see you at the starting line soon.
Jeramie Vaine
Editor: Jeramie Vaine is NSP's Team Manager for North America. We wholeheartedly agree with Jeramie's assessment of the current state of affairs and will continue to high-five paddlers at the starting line.
Related posts
The Super X range has evolved from riders demanding a focus on performance longboarding and exceptional surf versatility. Fins included: Wave 6 + 2 x J3 The DC Surf X creates the ultimate performance quiver to cover all conditions. Fins included: 3 x J3

 VIDEO FOIL – Travis Grant testing and developing the NSP's next chapter – NSP's Travis Grant enjoying the ultimate surprise for next season!  A lot of R&D with our shapers and riders to develop this foil board. Designed for the intermediate to expert SUP and surfer. Be ready! NSP will surprise you beyond your wildest…