Wingsurfer Journal reviews NSP Airwing 4M
About Wingsurfer Journal
With the French being one of the main markets in water sports, WingSurfer Journal is a publication reporting on gear, destinations and riders for the French-speaking market.
The magazine spawned from Windsurf Journal (related to SUP Journal), a publication that closely works together with distributors to get their hands on the latest gear for reviews.
What NSP says about the Airwing 4.0
"The geometry of the NSP Airwing delivers smooth power, stability and flowing handling. It invites you to experience new watersport sensations."
"The NSP Airwing is the result of tons of prototypes and hundreds of testing hours. The NSP R&D process refined the outlines, tube geometries and foil profiles to deliver a ride that is smooth and stable."
"The wing features a stable, low-aspect shape, balanced with moderate dihedral angles. This increases performance and your wind range, plus it helps keep the wingtips clear of the water."
"The NSP Airwing is a very accessible, lightweight wing, making it ideal for wingfoilers, SUPers and surfers wanting to increase their time and skills on the water."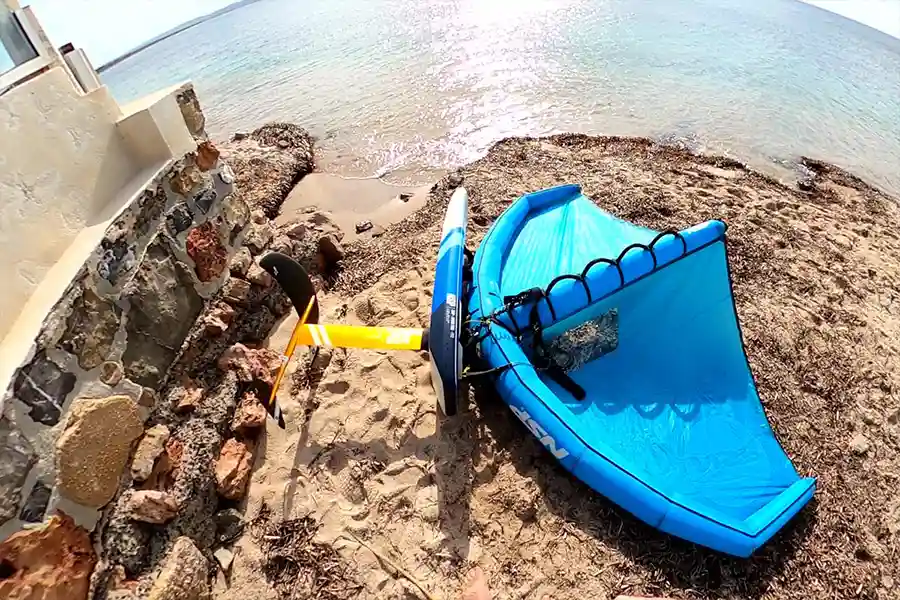 Features
This NSP Airwing is an inflatable wing with neoprene handles. We have had it to test for a few months now and it is therefore one of those "old generation" wings that hasn't yet benefited from new advances in terms of construction and type of handles, for example.
But it remains a wing for a large number of riders. It has a single inflation valve, requiring the (included) adapter to inflate. It is not the most practical system but it does allow for the use of SUP  pumps like the ones you get with an inflatable.
The wing comes in a very practical backpack and it really doesn't take up much space when stored. Of course, this bag also offers the fasteners to secure a pump on the side of your bag.
You can see the pump NSP made available for our test. We also used other SUP pumps with a pressure gauge to verify the inflation pressure recommended at 7 PSI. It is a wing with 5 handles on the center strut and as an original touch, no less than three handles on the leading edge.
There is, of course, the central handle but this wing sports two additional ones on each side. A little skeptical at first, our test showed us that these handles can in fact be useful in neutral when surfing and for downwinders.
There is plenty of room to wedge your hands between the handle and the struts, with the straps covered in neoprene. It would have been interesting to have a protective neoprene pad on the seams to avoid catching the seams with your fingernails.
We found the leash mount to be a little light, that's why you can see an additional safety feature we added in the pictures. The leash is included and we felt it worked well with this type of wing.
This wing also has two windows on each side of the central strut.
In Detail
No. of handles: Five on the center strut and three on the leading edge
Windows: Yes, one on each side
Leash: Provided, with velcro release and curled wire
Pump: Not included, but be careful with the included adapter in one of the pockets
Available sizes: 3.0 / 4.0 / 5.0 / 6.0
The 5M in blue and the 3M in red
What Wingsurf Journal.com says about the NSP Airwing 4.0
"This wing is compact in a small backpack and it fits extremely well in the trunk of the car. It is quick to set up, since it comes with a single valve, even if the adapter is not our favourite. You will have to hold the valve in place when taking off the pump so as not to unscrew it and deflate the wing while you remove the nozzle. Above all, you must not lose the adapter as there is little chance of finding another one in your parking lot."
"We preferred going over the recommended 7 PSI to have some extra rigidity in strong gusts. At 4.0, a wing should be absorb gusts and transfer it into speed."
"With its interesting weight, it is very easy to handle and the various handles allow novices to always recover and grab the right spot, whether it's on the center strut or the leading edge."
"A little more inflated than normal, it gets quite stiff in the hands and with the neoprene handles it's very easy to move around for pumping and picking up speed. The range of use is quite good in the low end. On the high end of things,  the wing can flex at 7 PSI,  and going upwind the leach will flatter while the leading edge feels tense."
"Small reinforcements on the leech, or an increased tension of the canvas  on ​​the back of the central strut could be possible improvements. The power delivery is very balanced and the kite is easy to keep in the air. We found that for experienced riders looking for maximum performance, an additional rear handle could be a possible addition to shift the center point towards the front of the wing and help overall balance."
"Riders who cruise and ride recreationally won't feel the need for an additional handle though. While this is not necessarily the wing for those who want to go fast, we were surprised at how easy it was to maneuver and even more so when surfing or following the swell. The small handles allow you to have a solid grip for jumping and freestyle maneuvers and there is always a handle you can grab to help you recover."
"In surf mode, the 3 handles allow you to completely neutralise the wing (center handle) or to keep a little bit of power  by using one of the other 2 (depending on starboard or portside). It surprised us but it works well and in the small swell this is exactly the little push you need to stay on foil. Instead of going down right away, you get enough delay to recover and keep flying. For that reason, it turned out to be our standard wing in tests and a product that we have appreciated for cruising and surf sessions."
Verdict
"Just like NSP says, the Airwing is for new riders, meaning that experienced and advanced wing foilers will find it shortcomings. But the fact remains that it is a light and pleasant wing for beginners. The build quality is there and its overall performance is good for an affordable wing with great versatility."
"There is a place on the market for this type of wing and we have been sailing with this wing for a few months, with just as much pleasure on the first day as on the last."
"It's up to you to define your priorities in the choice of equipment: limitless performance, in which case it may not be your bag, or a more versatile, accessible and easy wing."
TEST CONDITIONS
Wind: Between 5 and 30 knots
Conditions: Flat, choppy, swell, small waves
Spots: Almanarre, Garonne, Les Lecques,
Hours on the water: 6 hours, 5 sessions
PROS
Very accessible
Light build
Interesting Leading edge  3-handle approach to keep your wing neutral in swell rides and downwinders
CONS
Missing handle on the center strut
Loose leech
Adapter you don't want to lose
Leash mounting not heavy-duty enough for our liking
NSP Airwing 4M
Beginners: ⭐⭐⭐⭐
Intermediaries: ⭐⭐⭐⭐
Advanced: ⭐⭐⭐⭐
Experts: ⭐⭐⭐⭐
Equipment: ⭐⭐⭐⭐
Weight: ⭐⭐⭐⭐
Accessibility: ⭐⭐⭐⭐
Stability: ⭐⭐⭐⭐
Handling: ⭐⭐⭐⭐
Stiffness: ⭐⭐⭐⭐
Range of use: ⭐⭐⭐⭐
Versatility: ⭐⭐⭐⭐

Related posts
600km Nautical Miles west of Dakar in Western Africa lies the island group of Cabo Verde, a small Republic in the Atlantic Ocean. The locals speak Portuguese, and with several of the islands boasting impressive international airports (Boa Vista and São Vicente) there are two groups of tourists coming to the Republic. First, there is…

IT'S GOOD TO BE REVIEWED In the 2019 Spring Issue of SUP International, a range of four SUP boards were tested, made by market-leading manufacturers. Three were hardboards and one was inflatable. SUP International has agreed to let us publish the review on our own site, so here goes nothing: VERDICT NSP are historically known…