Travis wins 4th Molokai title
After this 2018 victory, Travis and NSP now hold the most Molokai wins of anyone competing in this legendary race. This is what Travis had to say after he crossed the finishing line about his battle over 1st place with Connor Baxter:
"I got away, but sort of tried to make Connor chase me. You can never really write him off, and maybe every time he got close I would turn things up a notch. It's sort of annoying (in Ocean racing) when you pick up on someone and they take off again, so I tried to hurt him in the racing sense of the word and I guess I succeeded. But it's certainly not easy; I kept asking (the team) where is he? Where is he? And they were like JUST KEEP GOING!"
In the end, it was enough for a 15-minute lead over Connor (full results below).
But we can't report on Molokai 2018 without mentioning Titouan, who trained with Travis and Alain but who sadly had to retire after more than three hours into the race. Struck by Tinnitus on high-seas, his balance went from bad to worse and after an hour of falling down and getting on, Titouan decided to retire. As stated before, merely finishing the race is an achievement in itself and over the years, M2O has proven to be a formidable opponent to some of the very best riders.
Alex Bicrel and Hobey Moss win the Team Relay on their NSP Sonic
Another victory this year comes from Alexandre Bicrel and Hobey Moss, taking 1st place in Team Relay (5:16:10) with almost half an hour over Alex Mawae and Slater Fleck, two locals who were the nearest contenders with a time of 5:44:22. As the Team Relay doesn't allow for unlimited boards, Alexandre and Hobey relied on an NPS Sonic and dominated the duo Team Relay this year:
What is Molokai to Oahu?
Molokai 2 Oahu (M2O) is a single crossing in the Hawaiian race series, with this race being the most important event of the series by far. Starting from Molokai, the 5th largest island of the Hawaiian Island chain, the athletes cross the 26 miles (42.5 kilometres) of the Ka'iwi Channel, dubbed "the channel of bones". Steeped in history, M2O produces countless heroics, drama and behind the scene stories, both on and off the water.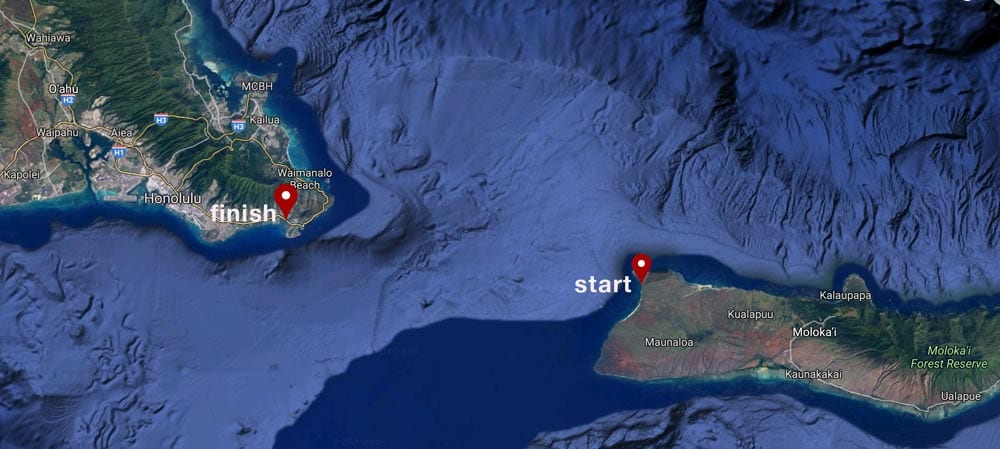 The combination of unpredictable weather conditions, unhindered open ocean swells and a different range of conditions throughout the course make this race an immense challenge. Consider this; the narrow canyon between the two land masses of Molokai and Oahu descends to a depth of 2,300 feet (701 meters) allowing for a lot of water movement. The race starts relatively flat, but usually escalates quickly in open-ocean racing where the ability to read the ocean and string up energy-conserving bumps is a skill that makes a winner.
Consider that for most of the elite SUP athletes, it is not uncommon to paddle five or six hours whereas the very best hover around the four-hour mark. Retirements are not uncommon (Titouan Puyo and Lincoln Dews both retired in this year's race) and just being able to make the crossing is seen as a massive achievement in an athlete's career.
And while 2018 saw a relatively easy section towards the end at Oahu's infamous China Wall, the final part can occasionally dish up some monster swell, beating contestants into submission at times even damaging their boards, rudders and ego. Or like this 2015 picture, where Travis manages to catch a ride towards the finish line:
Note that this year's race had some serious tide in the middle part of the race while the final section proved to be modest in comparison to previous years.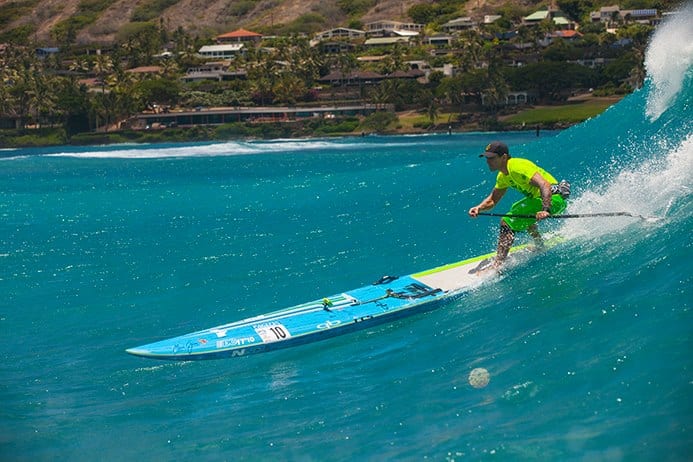 M2O is open to SUP paddlers, prone paddlers and Team Relays in both classes. SUP solo athletes compete either in the unlimited class or the 14' class whereas the SUP team relay are only allowed to compete on 14' boards. The rules concerning the race are extensive and well worth a read; we learned harvesting lobster from the escort boats is not only frowned upon during the race, it is also a disqualifiable offense as lobster is out of season from May to August. Oh those Pacific Islanders…
Why is it the most important race of the year?
Molokai 2 Oahu or M2O is unlike other races on the calendar for many reasons. Unlike the Eurotour, this is an open ocean race, making safety a real concern. Every athlete or team of athletes is required to have an escort boat at all times – no exception. Or, in the words of the organisation:
"ANY ATTEMPT to complete race without a boat will be an automatic disqualification and potential ban from future events."
For the athletes, the fact that M2O is an island crossing and not a mere course plotted along a shoreline is an important source of inspiration as well. The channel is revered amongst the locals and different disciplines required to be a successful contender make this one of the classic races:
Stamina
Paddling on open ocean for the better part of five hours is brutal. And while there are plenty of races that are longer, they lack the intensity of Molokai and the skills needed to navigate on the open water:
Ocean skills
Being able to conserve your energy and string up bump after bump is an essential skill. Unlike flat water races, there are no packs of riders, as the swell drives people further away from each other and every paddler chooses a line that they think is best for them. Your escort boat is your line to the rest of the field, telling you where your opponents are and where you are in the field.
Seasoned SUP racers describe M2O as a once-in-lifetime experience that you can hardly fathom the first time around, and Travis Grant himself said prior to the race that this is the one race where he gets ultra-competitive, as a win at Molokai is coveted amongst the locals and brings a massive sense of both personal and professional.
Seeing Travis his determination, his Ocean skills and the advanced shape of the NSP Molokai unlimited Pro Carbon and the excellent QuickBlade paddles, we are confident Travis will rake in more Molokai victories in the years to come.
Full results below
Men:
| | | | | |
| --- | --- | --- | --- | --- |
| Finish | Time | Name | Country | Category |
| 1 | 04:23:15 | Travis Grant | AUSTRALIA | SUP UNL M30-39 |
| 2 | 04:38:39 | Connor Baxter | UNITED STATES | SUP UNL M01-29 |
| 3 | 04:48:42 | James Casey | AUSTRALIA | SUP UNL M01-29 |
| 4 | 05:01:16 | Kody Kerbox | UNITED STATES | SUP UNL M01-29 |
| 5 | 05:01:27 | Josh Riccio | UNITED STATES | SUP STK M01-29 |
| 6 | 05:10:31 | Ty Judson | AUSTRALIA | SUP UNL M01-29 |
| 7 | 05:13:49 | Niuhiti Buillard | FRENCH POLYNESIA | SUP UNL M01-29 |
| 8 | 05:18:47 | Nathan Cross | AUSTRALIA | SUP UNL M01-29 |
| 9 | 05:24:25 | Vinnicius Martins | BRAZIL | SUP STK M01-29 |
| 10 | 05:27:52 | Takuji Araki | JAPAN | SUP STK M40-49 |
| 11 | 05:41:57 | Ryohei Yoshida | JAPAN | SUP UNL M30-39 |
| 12 | 05:44:34 | Harry Maskell | AUSTRALIA | SUP UNL M01-29 |
| 13 | 05:51:32 | Kosuke Matsuyama | JAPAN | SUP UNL M30-39 |
| 14 | 05:54:05 | Andrew Logreco | UNITED STATES | SUP STK M30-39 |
| 15 | 06:08:23 | Yusuke Hyogo | JAPAN | SUP STK M30-39 |
| 16 | 06:12:25 | Jason Stephens | UNITED STATES | SUP UNL M50-59 |
| 17 | 06:20:31 | James Martindale | UNITED STATES | SUP UNL M40-49 |
| 18 | 06:27:24 | Jeffrey Chang | UNITED STATES | SUP UNL M60-69 |
| 19 | 06:34:16 | Robert Stehlik | UNITED STATES | SUP UNL M50-59 |
| 20 | 06:35:45 | Kevin Horgan | UNITED STATES | SUP UNL M50-59 |
| 21 | 06:37:37 | Craig Winnett | AUSTRALIA | SUP STK M50-99 |
| 22 | 06:41:24 | Anthony Vela | UNITED STATES | SUP STK M40-49 |
| 23 | 06:49:23 | Scott McPhail | UNITED STATES | SUP UNL M50-59 |
| 24 | 07:02:08 | Fabio Valongo | BRAZIL | SUP STK M40-49 |
| 25 | 07:15:02 | Rob Gittoes | AUSTRALIA | SUP UNL M50-59 |
Women:
| | | | | |
| --- | --- | --- | --- | --- |
| Finish | Time | Name | Country | Category |
| 1 | 05:25:27 | Terrene Black | AUSTRALIA | SUP UNL FEMALE |
| 2 | 05:32:36 | Sonja Honscheid | GERMANY | SUP UNL FEMALE |
| 3 | 05:57:09 | Penelope Strickland | NEW ZEALAND | SUP UNL FEMALE |
| 4 | 06:47:54 | Jennifer Lee | UNITED STATES | SUP UNL FEMALE |
| 5 | 06:56:44 | Kiyomi Sheppard | UNITED STATES | SUP UNL FEMALE |
| 6 | 07:06:18 | Siri Schubert | SWITZERLAND | SUP STK FEMALE |
Team men:
| | | | | |
| --- | --- | --- | --- | --- |
| Watch | Time | Team | Country | Category |
| 1 | 05:16:10 | Moss/Bicrel | UNITED STATES | SUP STK 14′ TEAM 2 MALE |
| 2 | 05:44:21 | Mawae/Fleck | UNITED STATES | SUP STK 14′ TEAM 2 MALE |
| 3 | 06:00:27 | Anido/Borg | AUSTRALIA | SUP STK 14′ TEAM 2 MALE |
| 4 | 06:04:03 | Walsh/Hadley | UNITED STATES | SUP STK 14′ TEAM 2 MALE |
| 5 | 06:13:18 | Bernard/Sharsh/Zacharias (Team Bluerush) | UNITED STATES | SUP TEAM 3 MALE |
| 6 | 06:25:13 | McCleary/Buckley | UNITED STATES | SUP STK 14′ TEAM 2 MALE |
| 7 | 06:27:50 | Fong/Makua/Perkins (15min penalty) | UNITED STATES | SUP TEAM 3 MALE |
| 8 | 06:37:52 | Klemawesch/Klemawesch | UNITED STATES | SUP STK 14′ TEAM 2 M100+ |
| 9 | 06:46:57 | Tierney/Gallagher/Abbey | UNITED STATES | SUP TEAM 3 MALE |
| 10 | 06:51:27 | Drinkward/Gallemore | UNITED STATES | SUP STK 14′ TEAM 2 M100+ |
| 11 | 06:52:25 | Crist/Trent/Dorn | UNITED STATES | SUP TEAM 3 MALE |
| 12 | 07:02:35 | Taylor/Burns/Martinez | UNITED STATES | SUP TEAM 3 MALE |
| 13 | 07:09:37 | White/Hart | UNITED STATES | SUP STK 14′ TEAM 2 MALE |
| 14 | 07:18:32 | Moniz/Willis | UNITED STATES | SUP STK 14′ TEAM 2 M100+ |
Team women:
Watch
Time
Team
Country
Category
1
06:54:35
Thomas/McKee/Fuller
UNITED STATES
SUP TEAM 3 FEMALE
2
08:15:32
Bellman/Scott
AUSTRALIA
SUP STK 14′ TEAM 2 FEMALE
Related posts
Our official results of the first event on the Portuguese Race Tour are in, and it's been pretty epic. The race took place around Madeira and the contenders got hit with 20 knots of wind and a solid Atlantic swell. Rúben Afonso secured 1st place overall, with his team buddy Renato Queiros making some questionable choices…

Great results from the entire NSP racing team in France this weekend at Euro Tour Vendée Gliss! After a cool, fun 10km downwinder, the racers were met with some brutal sidewind conditions, followed by a long 200 meter sprint to the finish line. Having settled for a 4th place finish in Carolina, the leader of…