NSP Competition Results 2023
Bodie grabs silver and Dan gets the 4th at the Hanohano Ocean Challenge
The longest-running paddlesport race in California – the 28th annual West Coast Paddlesports "Hanohano Ocean Challenge" was held on January 28th, 2023 in Mission Bay, San Diego, California with a great mix of professional athletes and beginners. Included in the line-up for NSP were Bodie Von Allmen (USA) and Dan Miller (Canada).
The race was packed with over 300+ riders and after 5km, Bodie found himself leading the pack the entire race, right up until the last 50yards and ended up in 2nd place, besting his previous years time by over a minute. What a great way to kickstart his racing career on the NSP Ninja. Next up for Bodie will be the Newport Athletic Center (NAC) Hal Rosoff Classic in SoCal in two weeks.
Dan Miller, soaking in the warm Southern California weather (it's freezing in Canada right now). put in a great showing coming in 5th overall.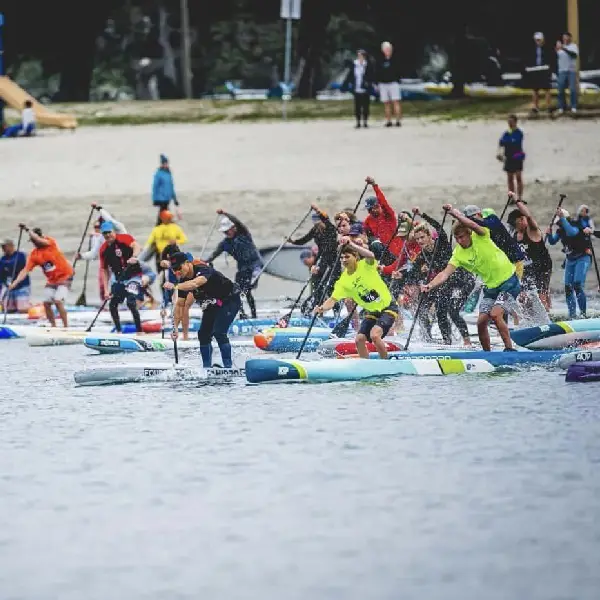 Picture courtesy of Doug Vojtho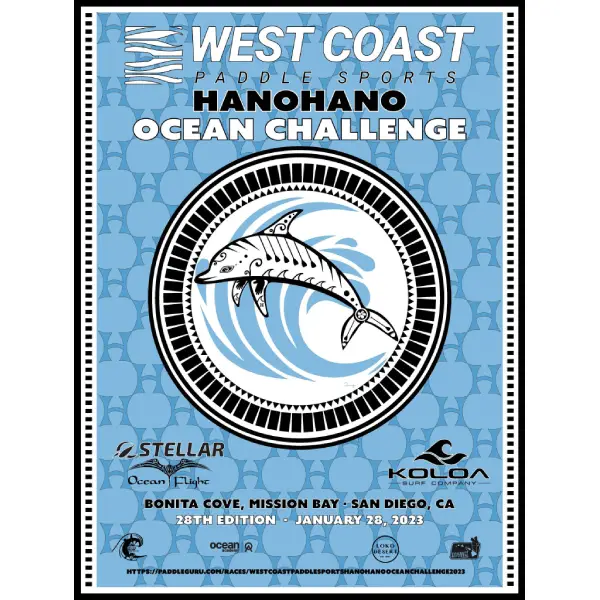 January 28th program :
07:30 – 09.00 Registration
8:50 Short course meeting
9:15 – 9:30 Start short course
10:45 Long course meeting
11:00 Long course heads to start
12:30 Lunch
13:00 Short Course Awards
13:30 Long Course Awards
14:00 Raffle (must be present to win)
SUP 14′ men overall result
1st Danny Ching, 00:51:22.85
2nd Bodie Von Allmen, 00:51:29.13
3rd Thomas Nilsen, 00:53.21.71
4th Riley Jaggi, 00:55:19.80
5th  Dan Miller, 00:55:46.18
6th Pete Guavin 00:56:22.89
7th Paul Pianowski, 00:56:32.55
8th Ian Connor, 00:57:01.50
9th Rafael Apodaca, 00:59:12.14
10th Sean Pangelinan, 00:59:35.92
SUP 14′ women overall result
1st Candice Appleby, 00:55:22.05
2nd April Zilg, 00:57:04.65
3rd Lindsay Weider, 01:01:58.30
4th Soryn Preston, 01:02:41.96
5th Madeline Leblanc, 01:02:51.47
6th Samantha Eastburn, 01:04:38.54
7th Kristin Thomas, 01:05:53.41
8th Anik Wild, 01:07:06.48
9th Katie Kasprzyk, 01:07:17.14
10th Terri Plunkett, 01:08:13.32
For full results please click
"It was super fun racing with Danny Ching and I'm stoked to finish closely behind him in 2nd."
Bodie Von Allmen
"This year was an unusual year for weather at the 28th annual Hanohano Ocean Challenge. Instead of being sunny and warm with very little wind, we had a 10-knot wind from the South. At the start of the race, the tide was bottoming out, and as the race progressed the Bay slowly filled. In every south-facing segment of the race, we had to fight against the tide and the wind."
"We had a great start with all of the fastest competitors starting together on the left side of the beach. I jumped out to an early lead that I was able to maintain for the first kilometer before melting into the draft line with Danny Ching, Bodie Von Allmen, Thomas Nilson, Riley Jaggi, and Pete Gauvin. We crossed the inlet together among hundreds of Outrigger canoes and set a fast pace all the way around the vacation island. Somewhere in there Danny and Bodie were able to successfully break away from us and it was down to a small group of us leftover including Riley, Pete, and myself. having local knowledge of the current I attempted to break away and dropped Pete while Riley try to escape with Candice Appleby who was charging hard."
"Most of the race was just a blur in my memory, however, it was fun to suffer with some other awesome athletes. I ended up two minutes faster than last year despite the challenging conditions and finished in the 4th position for the open men behind Danny, Bodie, and Thomas."
Dan Miller
Bodie and Dan raced the NSP Ninja
"Flat water, minimal wind chop, the fast and tiny ninja was a weapon."
Dan Miller
Read more about Pro Carbon Ninja here
Team NSP invades GlaGla 2023
The NSP 2023 racing recap and results starts off with one of the most popular events taking place on Lake Annecy in the French Alps. The Gla Gla Race kicked off January 20-22, 2023 and was everything the organizers and paddlers could have hoped for.
Sunny skies, freezing temperatures, a little upwind and some downwind conditions made for a great racing environment. Every year, paddlers from all over the world descend on Lake Annecy to test their might and skill, just to be crowned Gla Gla Champion. There are no monetary rewards for this event, yet everyone who attends always says the same thing: "I'll be back!"
This year did not disappoint either, with probably the largest group of athletes to date- 800 paddlers! Well done to the Alpine Lakes Tour and TotalSUP for the commentary and a special interview on the all-new NSP Ninja.
Race Course
15 km Long Distance
6.5 km Distance
3.5 km Distance
10 km Juniors
Technical Race
January 21st program :
07:00 Pick up your registration number (Bib)
09:30 Skipper's meeting (compulsory)
09:50 Warm-up (compulsory)
10:15 Start outriggers, Dragon Boats
10:30 Start long & short & very short distance & junior races
11:30 – 14:30 Lunch
13:00 – 14:00 Dragon Race
14:30 Technical race
15:30 Live music & bar
17:00 Prizes ceremony
What the riders had to say…
"It was a 15 km race in the morning on a lake in winter so every part of your body is freezing before getting started.
There are 800 paddlers on the starting line every year! 2024 will be the 10th year anniversary of the GlaGla Race so maybe we will see more people. The landscape is amazing and on Sunday you can go skiing near Lake Annecy.
It was -3° degrees before the start of the race with a little bit of wind but the race was flat most of the time."
Iona Rivet
"It was such a cold race with more than 800 participants in the breathtaking landscape."
Erica Revil
"The GlaGla race is one of the biggest races in the world in terms of participation with 800 competitors. Held in the French alps in the middle of winter. It's a freezing-cold race and the scenery is amazing."
"The GlaGla race is the coldest race I have ever done. The Long distance was a 14.5 km course with 5 turns and the Technical race was 4 km with 9 turns per lap (3 laps). The conditions were mostly flat water with a little Northern wind. There was a bit of chop during the race, especially in the beginning stages of the race from both the wind and all of the people on the water. It was sunny weather with cold temperatures and a beautiful view of snowy mountains in the background."
Christian Andersen
"There were a lot of people and it was very cold."
Dominik Blaskó
"This event is One of the biggest SUP races in the world!"
"The condition was very flat, with the occasional wind waves and some chop from other paddlers."
Lucas Boyum

"The Carolina is a good board for drafting."
Iona Rivet
"Very stable and the Carolina is a rocket and good with waves."
Dominik Blaskó
Read more about  Carolina Pro Carbon here
Christian Andersen, only his second time ever on an NSP race board and brand-new to the Team, proved he will be a force to reckon by coming in 5th overall in the Long Distance and 3rd in the Technical race.
Iona Rivet, French team rider battled the elements for a 3rd place finish in the distance, followed by a newcomer from Germany, Susanne Eder-Meyer in 4th and Erica Revil from France in 5th. Special note: Susanne Eder-Meyer also won 1st in the technical race!
In the 6.5 km distance, NSP race board designer Alain Teurquetil came across the line in 5th position, while one of NSP's original racers from 19 years ago, Leroy Rico, crossed the line 1st on an NSP inflatable board and Junior stand-out from Hungary Dominik Blasko won 2nd!
Congratulations to all the racers – we can't wait to see what the 10th anniversary will bring!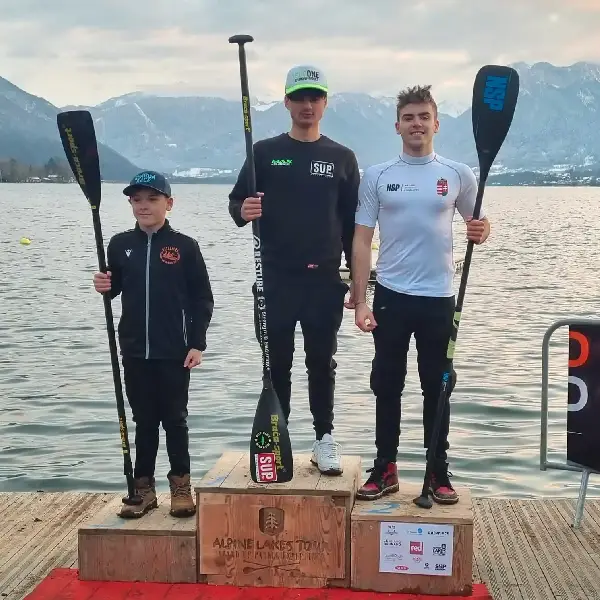 Junior 2nd Place Dominik Blasko (Hungary)
Related posts
Whether you use your SUP for touring, racing or surfing, choosing your SUP fins actually determines the performance of your board. A right fin can make paddling, maneuvering and simply staying on top, that much easier. In the video below, Travis will discuss his two favourite choices and the impact a fin, its placement and…

Great results from the entire NSP racing team in France this weekend at Euro Tour Vendée Gliss! After a cool, fun 10km downwinder, the racers were met with some brutal sidewind conditions, followed by a long 200 meter sprint to the finish line. Having settled for a 4th place finish in Carolina, the leader of…