Description
Glider Front Wings
These foils are based on high-performance windsurf / kite designs and have been adapted for the slower speeds of downwind SUP. The advantage of a high-aspect wing is its efficiency. A flat shape translates to directional stability and a more effective surface in pumping motion, as more surface is equally leveraged.
On the smaller glider wings, the reduction of surface area means less drag, increased efficiency and maneuverability, better acceleration and more top-end speed.
Pair any size with the RW 245 rear wing for maximum efficiency and minimal drag:
| Name | Weight | Width (cm) | Width (in) |
| --- | --- | --- | --- |
| FW 1050 | 0.9kg | 90 | 35.5 |
| FW 1250 | 1.00kg | 92 | 36.2 |
| FW 1450 | 1.08kg | 100 | 39.3 |
| FW 1650 | 1.69kg | 110 | 43.3 |
SUGGESTED WING PAIRING
General rules to follow in the selection process:
Wings:
• Bigger wing = more lift = lower skill level needed = smaller waves needed
• Smaller wing = faster, less lift = need more experience = need bigger waves
• The weight of the foiler and the skill are decisive for the front wing size
Masts:
• Shorter masts great for beginners, shallow waters and learning tricks
• Mid-size masts are better for advanced riders in bigger swells
• Long masts are best for tow in
Fuselage:
• Shorter fuselage = more reactive for tighter turns
Be sure to take into account your size and conditions when making your final decision.  Contact us if you need more support.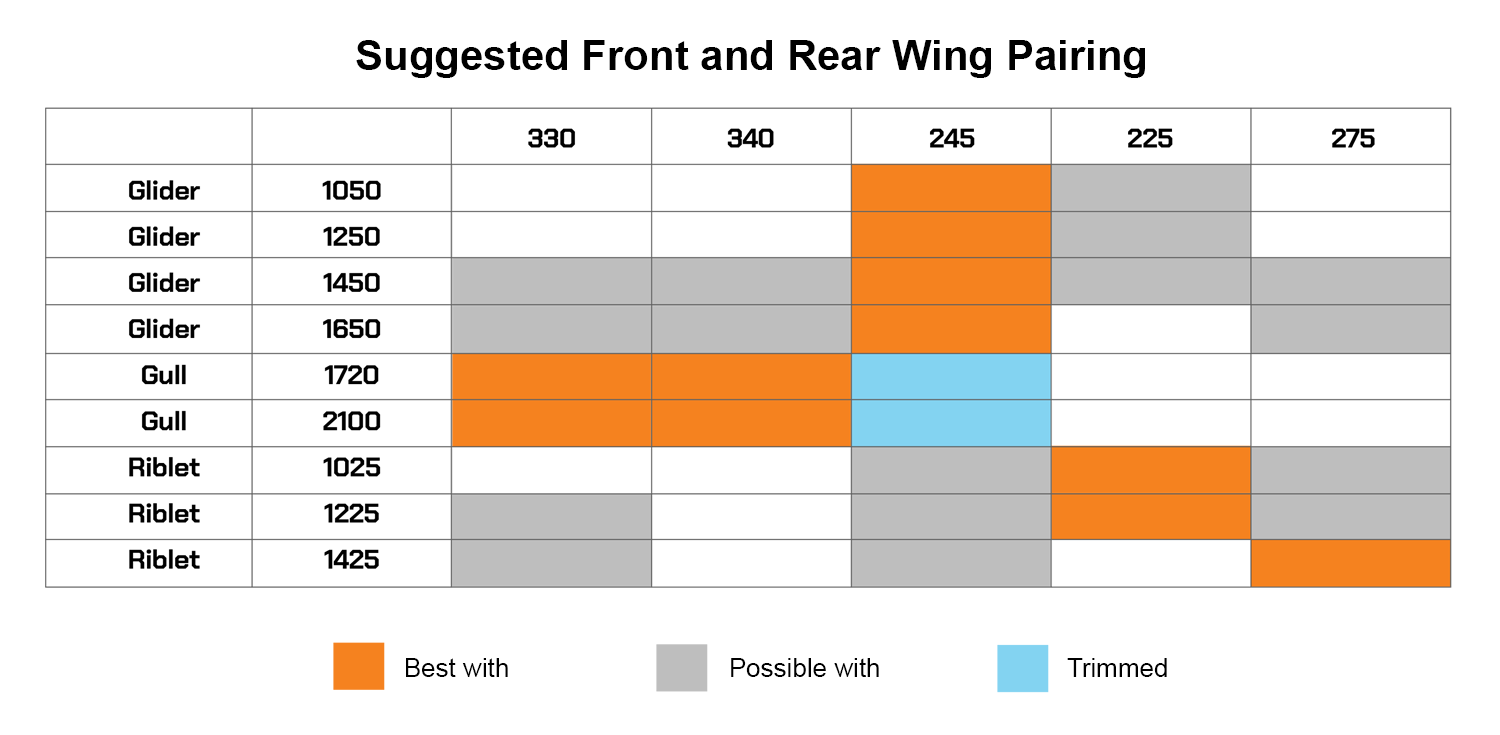 Glider Front Wings vs. Gull Front Wings vs. Riblet Series
Compared to the more popular Gull Front Wings (more allround foiling) and our Riblet Front Wings (designed for maximum speed), the Glider Front Wings are the high-aspect wings in the line-up designed for downwind foiling. This means you may be able to ride one, but tapping into their full performance requires advanced foiling skills.
Intermediate- and beginning foilers are best served with the more accessible Airwave sets and/or any of the Gull Front Wings. Riders looking for a specific foil characteristic like sustained glide, the best possible responsiveness or top-end speed are best served with the Riblet, Gull or Glider Front Wings.