Description
CocoFlax Cruise Color Options
Like the CocoFlax Cruise, all NSP CocoFlax boards are built with the environment in mind, meaning the CocoFlax version of the Cruise SUPs are some of the most eco-friendly boards on the market. By using a variety of green and renewable resources from farms in our area, CocoFlax construction embodies our commitment to recycling and sustainable manufacturing.
Plus, the eco-friendly construction makes for a visually unique board with an unmatched strength-to-weight ratio. Your CocoFlax Cruise is light to carry, easy to maneuver and a breeze to paddle. Its responsive flex and strength instill confidence, inviting you to push the envelope and progress while you play.
9'8″ tail shape
While the smallest CocoFlax Cruise (9'8) has a rounded tail (pictured below) which helps maneuverability, the bigger sizes benefit from a squashed tail for a slightly quicker release. After testing the different shapes, we found that the round tail is more responsive on the smaller 9'8″. It didn't scale up to the 10'2″ upwards though, so adding the squashed tail works better for the bigger boards in the range, as it releases better.
CocoFlax Cruise Construction
Amazingly light, yet strong, high-end eco-friendly performance boards featuring natural Flax rails. Recognized and awarded at the German Paddle Expo as "Product of the Year". NSP boards with the CocoFlax label are manufactured with more sustainable materials, sourced from responsible supply chains, and made by board builders with improved manufacturing processes, minimizing waste wherever possible.
In 2019, NSP introduces uni-directional (UD) Flax fiber rails to its (already) eco-friendly CocoMat series. Flax is a highly durable and naturally reinforced fiber that allows a board construction with significantly less fiberglass, which reduces our overall carbon footprint.
To read more about NSP and sustainability, click here.
– Natural Flax fiber rail and tail patch – Visually unique board with an unmatched strength-to-weight ratio. – Light to carry, easy to maneuver, and even lighter to paddle. – Responsive flex and strength enable you to push your limits.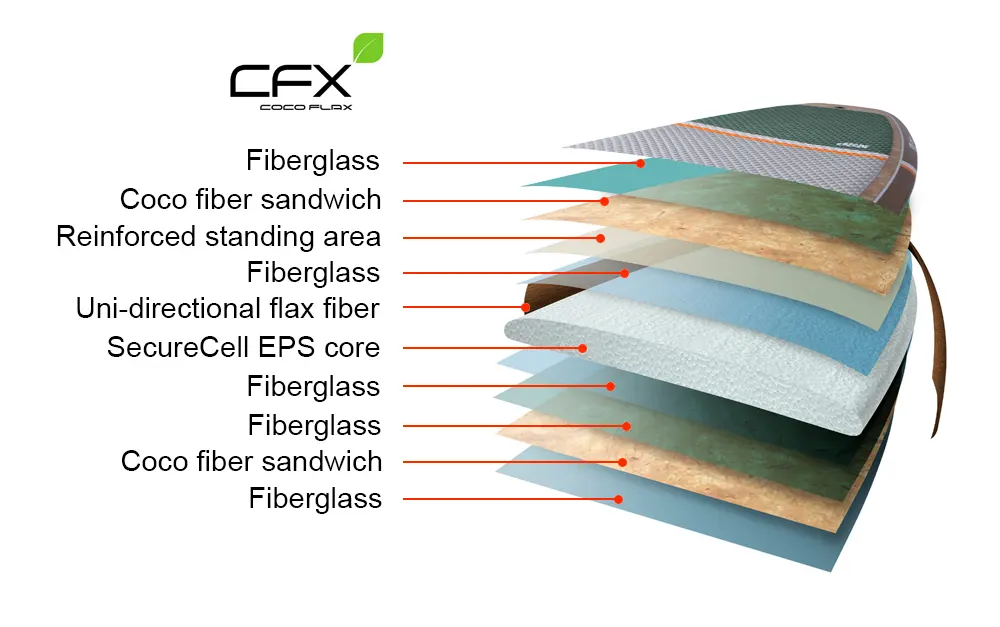 CocoFlax Cruise Testimonials