Description
Sleep Walker PU Color Options
Who's the Sleep Walker PU for
The Sleep Walker is set up for traditional log-style surfing with a single fin allowing for long hang tens and paddles into waves very easily. In addition, the Sleep Walker delivers allround flow and turnability. This is a great addition to anyone's quiver, it's an accessible shape with a deep performance envelope that experienced riders know and love. This makes the Sleep Walker an allround shape that both beginning longboarders and accomplished loggers ride and enjoy for years to come.
Shaper's Union
The Sleep Walker is a Shaper's Union creation, a collaboration between NSP and world-class shapers like Tully St. John.
Established to bring new energy and high performance to the surf line-up, Shapers Union is NSP's way to showcase the incredible skill and talent of some of the most accomplished shapers in the world.
As the owner/Shaper of the legendary Laguna Bay Longboards at Noosa Heads, Australia, Tully and his knowledge of longboard shaping are an essential part of the Shaper's Union DNA.
Absolutely gorgeous-looking handmade boards, benefiting from vintage construction techniques with some very current deep gloss colour tints.
Layup:
Deck: 6oz + 6oz  Bottom: 6oz + 4oz patch
• Traditional custom-shaped polyurethane (PU) core combined with wood stringer.
• High-quality materials with high-gloss finish for a classy vintage look
• Tradisional Wood center stringer for strength, flex and rigidity, tying together the traditional PU build.
• Classic Surf 10 center fin box
For the Epoxy version of the Sleep Walker, check out the version in Elements Construction.
Sleep Walker PU Testimonials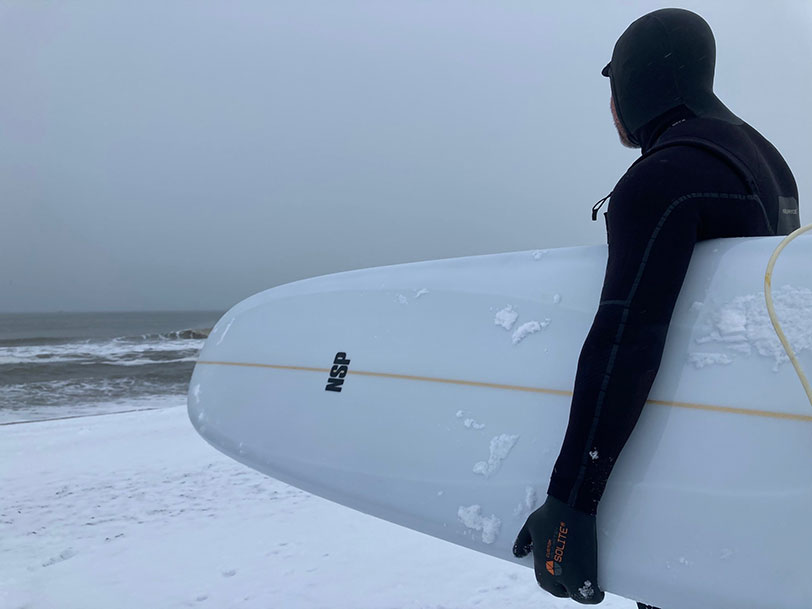 "Literally a board for beginner to winner. Smooth rails make this log forgiving for anyone looking into a true longboard and not high on handling. Easy in and very stable. Any chargers will trim with ease, park the rail and walk the walk, just an incredibly smooth ride. I can only imagine that this shape will be a favorite among the highest level of loggers, so it is to the family dad"
Ruben R. Rimfors
Entering the competition as a wildcard, NSP International Team Rider Kaede Inoue competed at Rip Curl's Pro Bells Beach 2023 event with her Sleep Walker PU, creating another Milestone for NSP as a manufacturer:
With riders already competing on NSP shortboards at last year's WSL Qualifying Series, Bells Beach marks the 1st official World Surf League event where a competitor rode a stock NSP product and fin.
"This board is a very interesting nose rider, it felt very responsive under my feet while turning and it has a wide base great for stability and shoots through the sections with no rail catching. It's a solid nose rider at the points and works just as well at the open beaches, it automatically sticks in the fast running sections and just goes with ease – I would definitely recommend this board to anyone to add a longboard to their quiver."
Will DeKing, Australia