NSP Releases High Roller and Instigator
NSP is excited to announce the latest additions to our dedicated surf SUP line. Shaped and designed by Alain Teurquetil, the High Roller and Instigator breathe new concepts and functional design into NSP's dedicated Surf SUP range. Both models come exclusively in SLX Flax, a lightweight construction ideal for hardcore wave rides.
SLX Flax provides a light, but durable build with the right type of flex.
High Roller
The High Roller continues the longboard SUP philosophy, allowing SUP riders to perform all the classic longboarding moves, on a high-performance SUP board designed to win.
Five amazing shapes
Equipped with a classic 2+1 fin setup, the High Roller comes in two different lengths, and five widths, making sure dedicated longboard SUP riders can choose their ideal High Roller, regardless of size or conditions they like to ride.
The EVA standing area has grown in size, offering the rider more grip as you make your way to a noseride, Alain has done away with the speed channels and swallow-tail, opting for reduced tail width for surfing performance and control.
For the different sizes, weights, fins included and other info, make sure to head over to the High Roller product page:
Learn more about the High Roller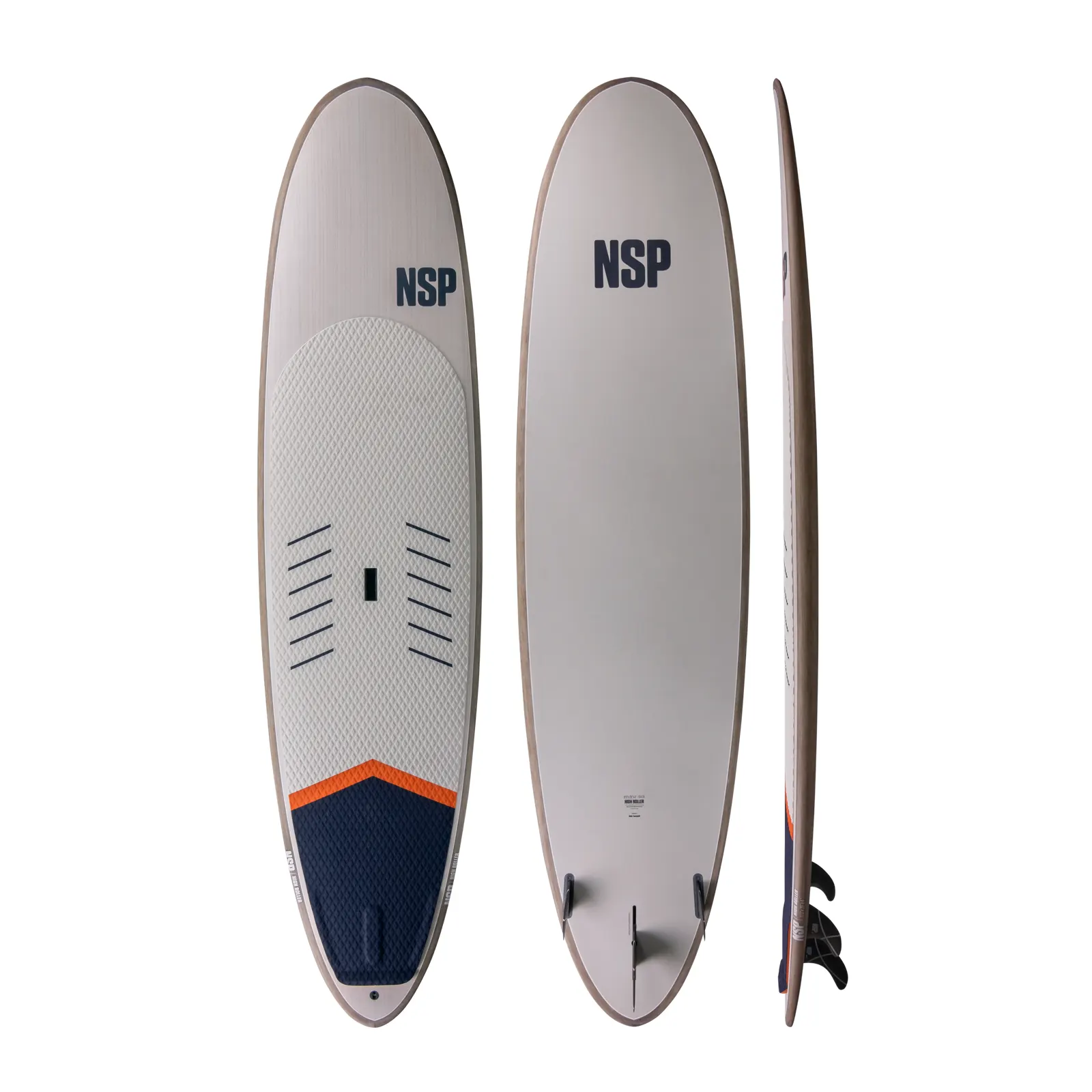 Instigator
The Instigator is an exciting new take on hardcore Surf SUP shapes by Alain Teurquetil.
Immediate standout features are its squash tail, and hard tail edges, but the Instigator also benefits from a deep single concave, nose-to-tail and a slightly curvier rocker line, complimented by an outline that's heavily influenced by performance shortboards.
Available in four sizes from 7'0″ and 75 Liters up to 8'6″ and 117 Liters.
SLX Flax construction
– Vacuum-bonded SLX (Super Light Epoxy) core is our lightweight and durable SUP surf construction
– Biaxial glass and Paulownia wood veneer deck for improved impact resistance
– Uni-directional flax rails for superior flex control and increased durability
– Eco-friendly option with SecureCell core, bio-resin, Paulownia wood veneer, and flax rails
For the different sizes, weights, fins included and other info, make sure to head over to the Instigator product page:
Learn more about the Instigator
Related posts
NSP Surf, SUP, Race and Foil is proud to announce that SurfCloud, currently distributing NSP in several European countries has added Portugal, an all-important surf market, to its network. Established in 2001, NSP or "New Surf Project stood at the vanguard of modern surfboard technology, producing light, affordable and ding-resistant surfboards." NSP Founder Bruce "Buzz"…

In the Beginning NSP was born in 2001 from the vision of Bruce "Buzz" Hansen, a life-long surfer, skater and allround waterman. While working in Maui as a custom surfboard builder Buzz had an epiphany for producing affordable, versatile, durable and great performing surfboards. Buzz correctly realized there were everyday surfers that needed an affordable…