2019 New CocoFlax construction now available
10.10.2019 Update: CocoFlax technology was voted "Product of the Year" at the Paddle Expo 2019 in Nuremberg, Germany
Building on the success of NSP's patented pending CocoMat technology, both NSP surfboards and stand-up paddle boards will benefit from new CocoFlax technology in the 2019 line up. For SUP, the Cruiser, Allrounder and the DC Surf Wide get the CocoFlax treatment and the in the surf line-up, the Hooligan, Endless, Dream Rider and the brand new Hybrid Foil are available in CocoFlax construction!
So what should I get?
Take the NSP Endless as an example. This longboard, shaped by Kym Thompson, comes in PU Heritage construction for riders who prefer a PU construction and the slicy feeling that comes with a little more weight. The CocoMat Endless is a great alternative, offering less weight and a more environmentally friendly construction. And now, with the CocoFlax Endless, there is an even lighter model available, with stronger rails and a construction that uses more sustainable resources than ever before.
Recap – what is CocoMat construction again?
The entire article on how CocoMat came about can be found here, but in essence, CocoMat is NSP's green patent-pending construction technology. By using coconut husk fibers to reinforce CocoMat boards, the side-product from a sustainable farm is reused to build surfboards. CocoMat has worked on several levels for NSP, reducing our carbon footprint and creating great-looking boards in the process.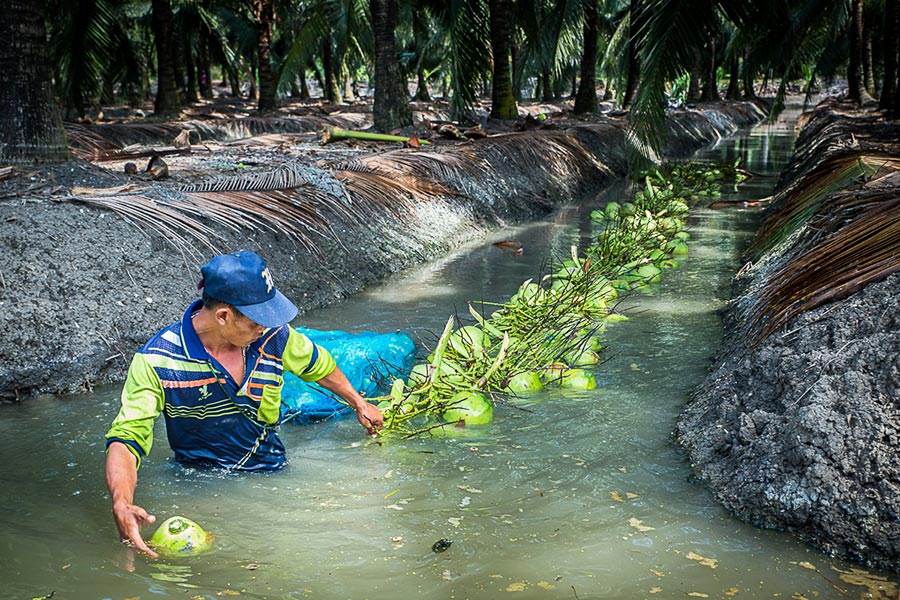 CocoMat & CocoFlax
And while CocoMat (coconut husk fibers sourced locally from Harmless Harvest farm in Thailand) in itself is already a green innovation in itself, the use of flax fibers for the tail patch and the rails of all CocoFlax boards is our next step towards an even greener product line-up. In the superfoods community, flax seeds are a staple food, and throughout history, flax fibers have been used for anything from tea bags to bank notes to twine or canvas. As a composite material, it is even more diverse, allowing manufacturers to create anything from snowboards to helmets and body panels for high-performance cars.
Naturally, CocoFlax like many of our boards carry the Internationally recognised EcoBoard certificate, indicating that considerable effort has gone into a product that's more sustainable and has less of a carbon footprint than conventionally produced surfboards.
About flax fibers
So it is safe to say that in recent years, the use of flax fibers as reinforcement in composites is a proven technology. Driven by the ever-increasing demand for sustainable construction methods, manufacturers will occasionally flirt with green materials, but in surfboard production, using an ecological sustainable material like flax is a massive win-win. Bio-degradable, cost-effective and aesthetically an improvement over conventional glass fibers, NSP will use CocoFlax for a variety of construction technologies in its lineup. For 2019, both NSP surfboards and SUP are getting a dedicated construction that makes use of CocoFlax.
Exceptional stiffness
And it's not just improved looks – Finely woven uni-directional Flax fibers, add exceptional stiffness and a crispy flex to your board. The 2019 Hybrid Foil uses CocoFlax, as it is light and our lab measurements have shown Flax fibres to exceed several carbon composites in stiffness and tensile strength. In combination with our bio-resin, these are our most green production boards to date and we will continue to push towards a greener production process.
The NSP Dream Rider will be available in CocoFlax, but also in CocoMat and PU Heritage construction. The same applies to the 2019 Hooligan and the Endless. Both longboards will be available in CocoFlax technology in addition to their PU Heritage and CocoMat construction. This year's new NSP hybrid foil comes in CocoFlax only with an unprecedented strength-to-weight ratio.
Whether you are looking for a surfboard or a stand-up paddle board produced in the most environmentally friendly construction you can think of, look no further. The CocoFlax surfboards have an amazing ride and the DC Surf Wide by Dale Chapman has an all-new shape for 2019 in three different sizes. The NSP Allrounder and NSP Cruise also benefit from NSP's new 2019 CocoFlax technology.
Related posts
Thanks to everyone that made the 2017 Pacific Paddle Games so special, here's the first part of our recap.  Lots of fun during the first day! Thanks to Ryan Guay for sharing us great action shots throughout the weekend! SUP Racer with Travis Grant after the long distance. To follow SUP Racer's Instagram > Click here NSP's…

NSP's surf range is refreshed for 2018. Check 'em out and catch some wave action during your Christmas holidays! Here is a nice little preview of what to expect from our new longboards! More info about the board > https://www.nspsurfboards.com/product/elements-longboard/ Video link > https://www.youtube.com/watch?v=QgzRSC_UEKE